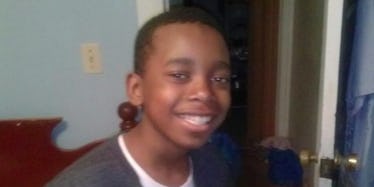 Video Shows Florida Resource Cop Violently Restraining 13-Year-Old Student
On Tuesday, Prosecutors slammed Kissimmee, Florida Resource Officer Mario Badia with charges months after a video surfaced of the cop forcefully throwing a 13-year-old boy to the ground.
The video above, taken six months ago at Kissimmee Middle School, shows Badia restraining the male student in a matter of seconds, leaving him with a sprained ankle and wrist.
According to WFTV, the officer was attempting to diffuse a situation between the boy and his mother, Alexis Richmond.
Richmond says,
He came in with such a hostile manner, like he was ready for war ... There's nothing I can do. I felt so helpless.
The boy's mother describes her son's behavior as "a kid being a kid" and talking back. Of the incident, Richmond says,
The respect level that [my son] used to have for police is not there as it should be. Justice should be served. He should get time for what he did to my son.
Following his arrest, Badia was placed on paid leave and is now facing charges of both felony abuse and battery.
Citations: Kissimmee officer's alleged takedown of middle school student caught on video (WFTV), Florida Police Officer's Brutal Takedown of a 13-Year-Old Kid Caught on Camera (Complex)