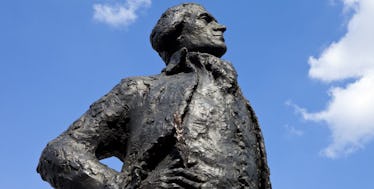 Students Want To Remove This College's Statue Of 'Racist' Thomas Jefferson
Getty Images
Students at a Virginia college covered a statue of Thomas Jefferson with Post-its calling him a racist.
Dozens of notes were placed on the statue at The College of William & Mary, Jefferson's alma mater, earlier this month, according to Inside Higher Ed.
A student wrote about the incident in the college's newspaper on November 16 and reported many students were discussing whether Jefferson's legacy deserves such criticism on social media.
Some of the phrases on the Post-its include "Racist," "Rapist," "Stop glorifying racists," "Slave owner" and "Black Lives Matter."
Jefferson has long been known as a slave owner who even fathered a child with one slave, whose name is featured on at least two of the messages.
No individual or organization claimed responsibility for the act of protest, nor has any formal request for the statue's removal been filed.
School officials are reportedly not viewing the Post-its as vandalism since they did not inflict any actual damage.
A William & Mary spokesperson told Inside Higher Education,
A university setting is the very place where civil conversations about difficult and important issues should occur. Nondestructive sticky notes are a form of expression compatible with our tradition of free expression.
The protest came just days after Princeton University students staged a sit-in to have Woodrow Wilson's name removed from an academic unit and residential college.
Wilson, who presided over the US during World War I, had government agencies segregated and is said to have been a vocal supporter of the Ku Klux Klan.
The protesters ended their occupation of the school president's office when officials agreed to consider the student's demands.
Citations: Jefferson Is Next Target (Inside Higher Ed), Reaction should be based on facts (The Flat Hat)