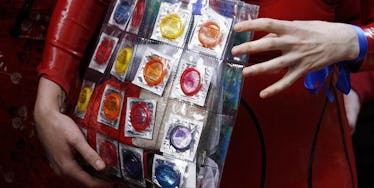 This Inspiring Sexual Health Bill Of Rights Is What All Colleges Need Right Now
REUTERS
Thanks to Eliana Stanislawski and a group of her classmates, students at Clark University in Massachusetts are guaranteed access to condoms, Plan B and resources for survivors of sexual assault.
Stanislawski is a senior at Clark studying international development and social change. When she arrived on campus, she joined the school's NARAL Pro-Choice chapter and served as a field organizing intern for the organization in Washington DC.
A "Campus Reproductive Bill of Rights" from NARAL Pro-Choice Massachusetts made Stanislawski's chapter realize what was missing on campus.
Condoms were only available in some vending machines, and there was no way to get emergency contraception. The campus had few gender neutral bathrooms with little proper signage.
Meanwhile, resources for sexual assault were spread over different departments, making it a confusing system to navigate.
So, they got to work.
Here, she explains how they made the Clark Reproductive Bill of Rights a reality.
Eliana Stanislawski: We were committed to creating a campus where reproductive freedom was a priority. Without prioritizing these issues, the safety and well-being of Clark's students was in turn being put on the back burner.
We believed that Clark's failure to provide its students with access to very basic sexual health resources represented an ethical divide between the University's stated values and its actions.
They drafted the Clark Reproductive Bill of Rights with hours of research and the help of many others.
ES: Our final document contained provisions that we had drafted after speaking with countless employees, both of our University and other universities whose policies we wanted to model ours after.
We included feedback from various student groups regarding their needs and the gaps that they believed were present, and we spent hours pouring over university policies.
We worked long and hard on each piece of the Bill of Rights, and they were just the beginning of all the work we had to do in order for them to be realized.
The group partnered with sexual health resource club, Choices, and LGBTQ+ group, OPEN, and started collecting petition signatures for the Reproductive Bill of Rights.
With 200 signatures in spring 2015 (out of 2,500 students at Clark), they met with the school president.
ES: We were fired up, and our president appreciated our enthusiasm. However, we also learned that these issues were not his "priority" at the moment. Our hearts sank.
With the school year wrapping up, we went home for the summer buzzing with how we could get the administration to prioritize these urgent reproductive justice issues.
In the fall, they circulated a Change.org petition that got 1,000 signatures in less than a week.
ES: Within days, we were in a meeting with the university president again.
Once more students, alumni and faculty began speaking out in support of our bill, he was much more open to our demands.
When we asked if he would sign on to our bill now, he told us he wanted to work with us to "get to yes."
We were a little disappointed, as we had hoped to leave the meeting with a definitive answer. But we didn't let that stop us.
We decided to hold the administration accountable.
We launched an accountability photo campaign to show our president just how many of us wanted to "get to yes" on the Reproductive Bill of Rights. We got over 100 photos just in a couple of hours!
The photo campaign had a clear impact, and the group went back to talk to the administration, who agreed to work with them.
ES: Each leadership team member took on a particular point that they agreed to see through.
We had to keep the victory to ourselves until the university publicly signed on and announced how they were actualizing the goals, but we met with different administrators every week who were working on making our demands a reality.
We made sure to express to the staff working with us how grateful we were for their support.
NARAL Pro-Choice Massachusetts publicly congratulated the students for their work.
And in spring 2016, Clark's president announced that Plan B would be available for free at Health Services and condoms would be available for free in the dorms starting in the fall.
ES: This victory for student health and well-being is a result of the hard work and participation of countless members of the Clark community and showcases the power of student activism.
But we still have a lot to look forward to — not only the full implementation of our bill of rights, but using the organizing skills NARAL Pro-Choice Massachusetts helped us develop to join the reproductive rights movement outside of our campus borders.
After going through this, Stanislawski has advice for students on other campuses looking to support sexual health.
ES: Begin by asking yourselves the question we asked ourselves when we began this process: What does a campus that prioritizes reproductive freedom look like?
Then, follow up by asking yourselves: What are the gaps between the campus we identified and our campus as it exists today? What are some tangible changes that you can make to address these gaps?
When considering where gaps might be in your university's reproductive and sexual health care policies, topics to reflect on include freedom to information, access to sexual and reproductive health care and resources, access for differently-abled students, sexual assault and harassment response and prevention, student pregnancy and anti-discrimination and gender neutral policies and spaces.
For more detailed information, you can reach out to NARAL Pro-Choice Massachusetts.
Stanislawski intends to continue activist work, but she knows the Clark success is not hers alone.
ES: This is kind of organizing is never done by one person alone. This is the work of a team.
My role in this effort was being a member of a group of young, female-identifying leaders who collaborated to make these changes happen.
Women are often assumed to be each other's competition rather than each other's strength, but this is a farce perpetuated by those who would rather us be quiet than join forces and speak up for what is right.
You need to not only be willing to work with others, but excited to work with others in order to organize on this level.
It is all about teamwork. That almost means being willing to work with your university's administration.
Organizing in this way requires a bravery that women are taught not to have.
We are conditioned to follow the rules and to always be likable.
This work forces you to worry less about what you "should" do and to focus more on what you are going to do and what you want.
Your voice and your needs are valuable and you deserve to be included in decision making.
This interview has been condensed.