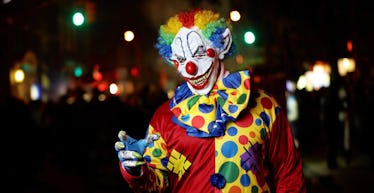 Everyone Wants To Move After The Creepy Clown Sightings In South Carolina
REX/Shutterstock
There's a very good reason to be scared if you're in Greenville, South Carolina.
People are reporting sightings of a mystery clown trying to lure kids into the woods.
And if that's not creepy enough, police have laid on extra patrols and apartment complex officials have issued a chilling warning to keep children in the house at night.
Obviously, it's causing a lot of unrest:
On Tuesday, Master Deputy Sheriff Ryan Flood said the department could not confirm any sightings.
However, extra deputies were patrolling the area of concern.
Meanwhile, the property manager at Fleetwood Manor Apartments sent out this terrifying letter,
There has been a lot of complaints to the office regarding a clown or a person dressed in clown clothing taking children or trying to lure children in the woods. At no time should a child be alone at night, or walking in the roads or wooded areas at night. Also, if a person or persons are seen you are to immediately call the police. Remember there is a 10 pm curfew for the property to ensure your children's safety, please keep them in the house during night hours and make sure at ALL times children are supervised.
*Creepy fun fair music and echoes of children's laughter*