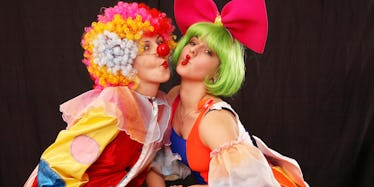 The Terrifying Clown Craze Is Actually Turning People On, According To Pornhub
Shutterstock
Just when you thought 2016 couldn't get any weirder, "clown porn" has become a popular fetish.
Apparently, all of the killer-clown sightings stopped scaring the shit out of people and starting turning them on.
I mean, what's sexier than a knife-wielding psychopath, am I right?!
HAH. Just kidding.
Just about everything is sexier than a clown chasing you down the street -- but everyone's got their kinks and I'm not one to judge.
According to Metro, searches for "clown pornography" have gone way up on PornHub.
The sexual deviants partaking in the madness are allegedly dressing up as clowns and experimenting with BDSM.
But apparently, those who are involved in the aggressive clown porn are potentially dangerous (no surprise there).
Daily Star recently spoke with the boss of an escort agency about her recent involvement with clown-wannabes.
The woman, who wished to remain anonymous, stated,
I've had guys asking for girls to dress as clowns and guys asking if they can be dressed as clowns during meetings. My answer is 'no' on both scores. This kind of fetish is a little beyond the wearing of a sexy uniform of some description.
I suppose if threatening clowns weren't running rampant throughout the country, then maybe her response would be a little different.
She continued,
In my experience – 30 years running an agency – guys who want this kind of service are trouble and possibly even dangerous.
To make matters even scarier, the woman described how the clown-craze can easily turn into a countrywide epidemic of sexual attacks by the tricksters.
She stated,
You could get people with the desire to attack women using the craze as cover to strike or people with deep-rooted fantasies about attacking women dressed as clowns thinking that this is their time.
OK, I GET IT -- CLOWN PORN ISN'T FUNNY.
If you find these tricksters arousing -- please, we beg of you -- keep the fetish to yourself.
Citations: Metro