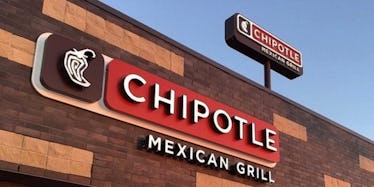 Chipotle Is Adding Dessert To Its Menu, So Leave Room After Your Burrito Bowl
Instagram
So, you've decided to forgo the extra guac and opted for water instead of soda. We get it, you're trying to be "healthy."
Don't pat yourself on the back just yet because Chipotle is adding dessert to its menu.
Soon enough, you'll be walking the fine line between "I'm so stuffed," and "OK, just a little more."
We can't blame you, though — Chipotle is all about indulging, after all.
Chris Arnold, Chipotle's spokesman, told Business Insider the restaurant will be testing Mexican buñuelos this May, and man, do they sound heavenly.
The highly-anticipated buñelos are fried tortillas drenched in a drizzle of honey, sugar and cinnamon. The post-burrito treat is topped off with an apple caramel dipping sauce.
YUM.
Chipotle enthusiasts have been waiting patiently for a year for the restaurant to reveal its dessert plans, and something tells me the deep-fried goodness will have customers lining up for a taste after they finish their burrito bowls.
What's interesting is the fact Chipotle restaurants very rarely changes its menu (emphasis on "very"). The menu has remained pretty much the same since it was founded 20 years ago.
Chipotle's CEO, Steve Ells, told Business Insider,
When we think about adding something to Chipotle, we are very, very mindful of our overall efficiencies in the kitchen, in cooking, in throughout and in ease of ordering for the customer.
Even after the 2015 E. Coli outbreak, Chipotle is willing to bend its two-decade-long rules for burrito and dessert lovers alike.
Recently, the restaurant has been experiencing extra-long, wrap-around-the-store lines. Business Insider reports Chipotle's sales at restaurants that have been open for at least a year rose 17.8 percent in the first quarter.
In fancy business terms, that means this is the first time the metric turned positive since the E. Coli outbreak. Hooray!
Now, we're back on track and excited for sweets.
It's safe to say the buñuelos' apple caramel dipping sauce is going to be the new "extra guac."
Buñuelos will be available in on the Chipotle menu next month.
Citations: Chipotle has finally revealed its mysterious new dessert (Business Insider), Chipotle just said it will break one of its cardinal rules to win back customers (Business Insider)