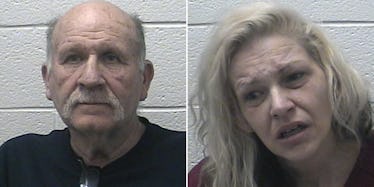 Parents Lock Child With Autism In Cage For 4 Years And Call It Her 'Safe Place'
Washington County Sheriff's Office
A couple allegedly locked its autistic daughter in a cage, describing it as her "safe place," according to police.
During a welfare check of Mickey Sparks and Patricia Laws' home in Jonesborough, Tennessee, police officers found the 10-year-old girl on a mattress in the wooden cage.
Her parents insisted the cage helped them control the girl, and the Department of Child Services had approved the cage, however this was denied by the DCS, The Johnson City Press reported.
Sparks, 69, and Laws, 43, have been charged with aggravated child abuse and neglect.
Deputies Jared Taylor and Michael Garmer found the girl in the cage, which smelled of urine and feces, Sheriff Ed Graybeal said.
Laws allegedly told the officers her daughter had autism, and locking her in the cage helped the couple control her.
She added the girl slept in the cage at night and had been living in it for nearly four years.
Sheriff's office spokesman Captain Shawn Judy told People,
It's almost like (the girl) was taught to feel it as a comforting area. She was being taught that it was a safe place, but there are limits to what defines as a safe place. You don't put a padlock on a (safe place).
The couple was living with the girl, her twin brother and 13-year-old twins, who are the mother's children. All four children have since been removed from their care, and the cage has been seized for evidence.
Captain Judy added,
We're trying to get enough evidence, but that's not our top priority right now. We're working on the kids.
Laws and Sparks are both being held in the Washington County Detention Center on $50,000 bonds.
They were arraigned in Washington County General Sessions Court on Tuesday, February 7, when their charges were read aloud.
They have not entered pleas. They are due to appear in court on February 16.
Citations: Update: Jonesborough pair claimed DCS approved cage for autistic child (Johnson City Press), Tennessee Couple Allegedly Kept 10-Year-Old Daughter with Autism in Cage (People)