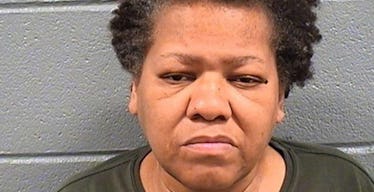 8-Year-Old Pens Haunting Last Diary Entry Before Grandma Beats Her To Death
Cook County's Sheriff's Office
An 8-year-old girl from Chicago wrote a chilling diary entry just two days before her grandmother fatally beat her.
It read,
I hate this life because now I'm in super big trouble.
Helen Ford, 55, is currently on bench trial on six counts for the murder of her granddaughter, Gizzell Ford, also known as "Gizzy," who was killed in July 2013.
Gizzy was found beaten on the floor of her father's bedroom, wearing only a pair of torn green underwear. A paramedic arrived at the scene after receiving a call of a girl who having trouble breathing.
The grandmother initially tried to block the paramedic from entering, though she managed to push her way through to find Gizzy dead on the floor next to a bloody pillow.
When her body was discovered, officials said she had been so badly beaten, most of the hair on the back of her head had been pulled out. Medical examiners found maggots in a large, untreated head wound.
The young girl's haunting diary entries were read aloud for the first time today in court. They revealed a long, devastating history of abuse in the Ford home.
One entry read,
I know if I be good and do everything I'm told I won't have to do punishments.
Gizzy had documented virtually all the times she was "good" or "bad" and the consequences she endured as a result of her behavior.
Just weeks before her death, she wrote,
I hope that I don't mess up today because I really want to be able to just sit down, watch TV, talk and play with everybody. I am going to be great all day. Love, G.F.
She later wrote underneath that entry,
Not true. I failed.
Before her tragic death, Gizzy had been under the custody of her grandmother and lived in the apartment with her father, Andre Ford. He died in jail back in 2014 after battling an autoimmune disease.
Ford had been the girl's only caregiver, as her mother was homeless and could not get her to school.
A month before her death, an investigator from the Illinois Department of Children and Family Services had reportedly visited the home. A child-abuse doctor examined the girl's body and found injuries on her bottom, though the suspicious marks were never reported.
Gizzell's maternal aunt said she had not seen her niece for months, as the Ford family would often make excuses that would not allow her to see the girl.
Citations: Tortured girl, 8, wrote 'I hate this life' in her diary just two days before her grandmother 'beat her to death' (DailyMail.com)