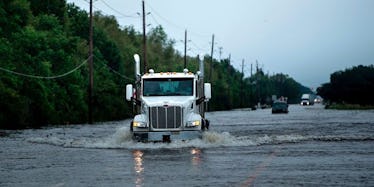 A Chemical Plant Exploded From Harvey Flooding In Texas, Here's How It Happened
BRENDAN SMIALOWSKI/AFP/Getty Images
Hurricane Harvey has not only forced thousands of people to leave their homes because of powerful floods. The storm has also sparked explosions in one town in the Houston area, an area which has now become an evacuation zone as more explosions are expected to come. The first of those incidents happened in the early hours of Thursday morning, Aug. 31., when the Arkema chemical plant saw two explosions caused by Harvey's flooding.
Arkema Inc., a French company with a plant based in Crosby, Texas, (about 25 miles from Houston in nearby Harris County), released a statement that confirmed the explosions and also warned residents that more could come.
The statement read,
We want local residents to be aware that the product is stored in multiple locations on the site, and a threat of additional explosion remains. Please do not return to the area within the evacuation zone until local emergency response authorities announce it is safe to do so.
How did the explosion happen?
The Arkema plant had already expected Thursday's explosion to come before it even occurred. That's because the conditions that caused the explosion were already in place.
Within its statement, Arkema explained that its plant had taken certain measures to ensure the facility had power throughout and after the storm. However, the flooding caused by Harvey "overwhelmed" three sources of power at the plant, including two backup sources, the statement explained.
Some of the plant's chemicals require refrigeration or else they burn. Because power had been lost during the storm, Arkema then anticipated explosions would take place.
The company's statement read,
We have been working closely with public officials to manage the implications of this situation, and have communicated with the public the potential for product to explode and cause an intense fire. Organic peroxides are extremely flammable and, as agreed with public officials, the best course of action is to let the fire burn itself out.
In anticipation of the explosions, Harris County officials set up an evacuation zone within a 1.5-mile radius of the plant, the New York Times reports.
When the explosions did come, they resulted in 10 police officers having to go to the hospital, which the Harris County Sheriff's Office announced on Twitter.
Hurricane Harvey has been downgraded to a tropical depression since making landfall on the Gulf Coast.
Still, the explosions at Arkema are just one example of how Harvey continues to cause damage in Texas, even as the storm itself recedes.