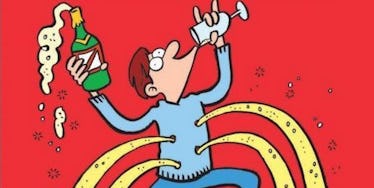 Here's The Bold Cover Of The First Charlie Hebdo Issue Since The Paris Attacks
Following Friday's devastating terror attacks in Paris, many were left wondering, "How could this happen in Paris, again?"
In January, Paris was hit with its first terror attack of the year. That time, the attack specifically targeted the office of Charlie Hebdo, a French satirical weekly magazine. The attackers, identifying with ISIS, killed 11 people in the Charlie Hebdo office and injured 11 more.
Friday's attack killed 129 people and injured hundreds of others.
But, the thing about attacking Paris is, you can never get the French to surrender their beautiful way of life.
The people of Paris may be shaken, but they are not letting their sense of identity go. Even the illustrators at Charlie Hebdo know this.
On Tuesday, Charlie Hebdo Illustrator Mathieu Madénian shared the magazine's newest cover in honor of the more recent Paris attacks.
The cover reads, "They've got the guns. Fuck them. We have the champagne."
While nothing can ease the pain Paris has experienced this year, at least the world can see the city, the country and its people, have retained their spirit.