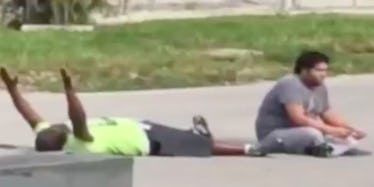 Video Shows Man On Ground With Hands In The Air Before Getting Shot By Cop
WSVN 7
Shocking footage has emerged of a caretaker laying on the ground with his hands in the air before he's shot by a cop.
North Miami police were called to the scene on Wednesday after someone called 911 telling them a man was walking around with a gun threatening suicide, reports WSVN 7.
In fact, behavioral therapist Charles Kinsey was looking after a man with Autism, and the "gun" was a toy truck.
Police swarmed the area and surrounded Kinsey.
He was ordered to lay on the ground with his hand in the air. He complied.
In the video, Kinsey is heard telling cops, "All he has is a toy truck. A toy truck. I am a behavior therapist at a group home."
Then he tells the man he's with to "be still" and lay on his stomach.
Suddenly, Kinsey says he was shot out of nowhere.
Speaking from his hospital bed, he said, "When he hit me, it was so surprising. It was like a mosquito bite. And when he hit me I was like, 'I still got my hands in the air.'"
"I asked the cop why he shot me, and he said, 'I don't know'."
In a statement, North Miami Police confirmed "at some point during the on-scene negotiation, one of the responding officers discharged his weapon, striking the employee of the Assisted Living Facility."
The department said it is investigating the shooting and appealed for witnesses.
Kinsey was shot in the leg and is recovering well in the hospital.