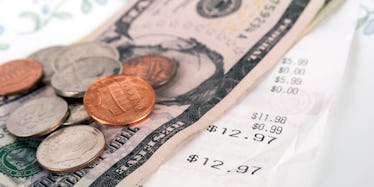 This CEO Is Completely Getting Rid Of Tipping At All Of His Restaurants
Shutterstock
A New York City restaurateur will be eliminating tipping from all of his establishments.
According to The New York Times, Union Square Hospitality Group CEO Danny Meyer based his decision on the fact current restaurant regulations do not allow all employees, namely kitchen staff, to benefit from tips.
So to give all employees fair pay, Meyer will discontinue tipping and raise prices at his 13 restaurants starting next month.
There will be just one line on a bill for payment, and the menu will even explain the higher prices are due to "hospitality."
On Wednesday, Meyer posted a letter on the USHG website to announce the new policy.
In the letter, he wrote,
We believe hospitality is a team sport, and that it takes an entire team to provide you with the experiences you have come to expect from us. Unfortunately, many of our colleagues — our cooks, reservationists, and dishwashers to name a few — aren't able to share in our guests' generosity, even though their contributions are just as vital to the outcome of your experience at one of our restaurants.
The first restaurant to make the change in late November will be The Modern, located in the Museum of Modern Art.
Meyer's other restaurants, including Jazz Standard, GreenRiver, Porchlight and Studio Cafe, will do the same by the end of next year, NBC News reports.
Even though employees will make more money, the letter said,
The total cost you pay to dine [at the restaurants] won't differ much from what you pay now.
Meyer did not provide specifics regarding the increases in wages and prices, but he told The New York Times the kitchen workers at The Modern will see their hourly wages go from $11.75 to $15.25.
Servers at his restaurants, however, will make roughly the same money they make now.
Meyer, who also founded Shake Shack, said higher pay for cooks is necessary to attract the best talent, and dishwashers, along with junior dining room managers, will be paid more as well.
Throughout his 30 years as a restaurateur, Meyer said,
Kitchen income has gone up no more than 25 percent. Meanwhile, dining room pay has gone up 200 percent.
When servers and other staff were told about the new policy, Meyer said he received "zero pushback" and learned "100 percent" of these workers were on board with other staff earning higher wages.
Citations: Danny Meyer Restaurants to Eliminate Tipping (The New York Times), NYC Restaurateur Danny Meyer Eliminates Tipping, Hikes Menu Prices (NBC News)