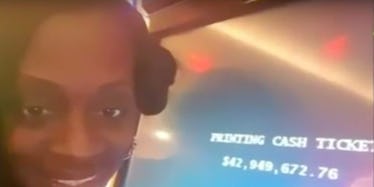 Woman Wins $42.9 Million On Slot Machine, Casino Offers Her A Steak Instead
YouTube
I never really understood the appeal of slot machines. You put money in, and rarely does money come out.
Even when I went to Las Vegas, I thought the coolest thing about casinos was your ability to smoke inside and the fact that you could just walk out of a club with your glass of alcohol.
OH, MY GOD. I FORGOT TO CASH OUT MY WINNINGS.
(Please, love me for me -- not my money.)
Katrina Bookman was enjoying her time at Resorts World Casino in New York when she struck it big on a Sphinx slot machine.
We're talking to the sweet, sweet tune of $42,949,672.
However, WABC says the casino refused to pay up and offered her a steak dinner instead.
But like, how good of a steak are we talking about? Because when's the last time you had really great steak? I can't even recall!
Apparently, when the mother-of-four went to cash out, after taking a selfie with the screen, she was told to come back the next day.
Bookman returned and was informed she won nothing.
The Sphinx machine only pays out the maximum winnings of $6,500. Her $42 million was the result of an error.
Bookman is now suing the casino. Her attorney Alan Ripka feels that the casino not paying her is "unfair." He said,
The machine takes your money when you lose. It ought to pay it when you win.
He states that even if the machine malfunctioned on the total win, Bookman deserves to see the earned winnings.
However, according to the New York State Gaming Commission, any machine that malfunctions "void all pays and plays."
PERSONALLY, because my opinion on this issue matters greatly, I think the casino should at least offer her the maximum earnings of $6,500. While it's not a $42 million jackpot, at least it's something.
I mean, if we can't trust gambling to earn us our fortune, what can we trust?
Hard work? That's not really for me.
Citations: WOMAN THINKS SHE WON $43 MILLION IN SLOT MACHINE MALFUNCTION (ABC)