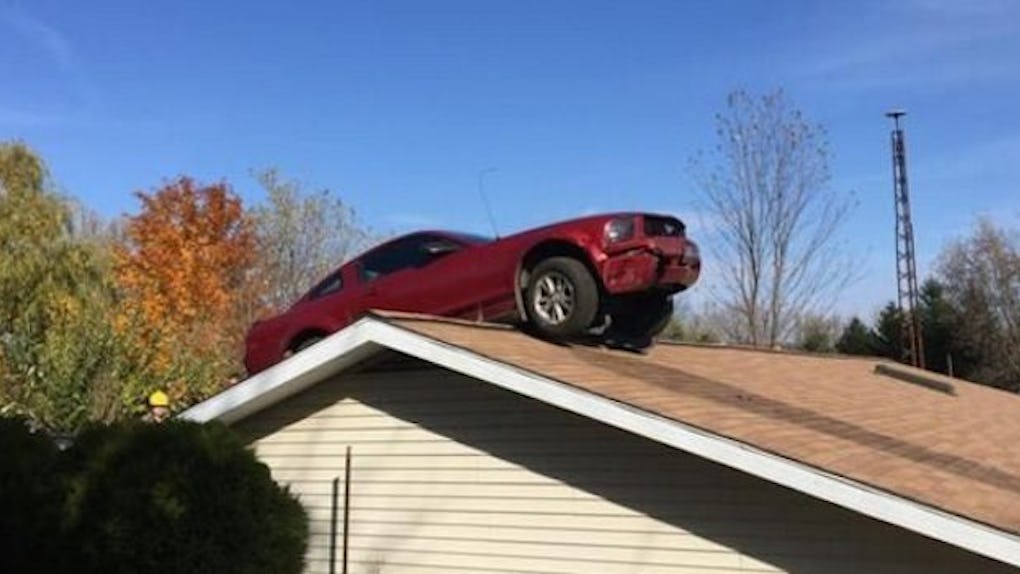 Twitter
Car Literally Got Stuck On Roof Of A House After Driver Lost Control
A car was accidentally driven off a highway and ended up on the roof of a nearby home.
According to ABC News, 83-year-old Joyce Kingsley heard a thunderous "kaboom" while she was relaxing in her Shiawassee County, Michigan home on Monday. So, she went out her backdoor to see what happened.
Hanging off the roof of her home, which sits next to a hill, was a Ford Mustang.
A Michigan driver crashed his car onto the roof of a house after he lost control of his Mustang on I-69 pic.twitter.com/wduAk0zBIE — Mojo In The Morning (@MojoInTheMorn) October 28, 2015
The driver apparently lost control of the car after reportedly suffering a medical problem while driving on Interstate 69.
The driver, who has not been identified, then plowed over bushes, numerous trees and a fence before becoming stuck on Kingsley's roof, police said.
The house's location puts the roof at nearly the same level as the ground at the top of the hill.
The driver reportedly received treatment for low blood sugar but, shockingly, did not sustain any injuries in the accident.
Trooper Ben Rowell reportedly told the Argus-Press,
The driver is extremely lucky to have avoided the three large trees in the yard. Had the vehicle been a few feet to the left or right, the driver could have been seriously injured.
The car put a hole in Kingsley's roof and damaged her gutter as well as some shingles, The Washington Post reports.
Kingsley said,
It could've been a lot worse. I'm glad everyone is all right.
She plans to cover the affected area with a tarp until it is repaired.
Citations: Owner Hears 'Kaboom,' Finds Car on Roof of Michigan Home (ABC News), No, you may not park your Ford Mustang on the roof of this house (The Washington Post)