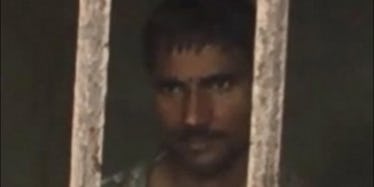 Mom Walks In On Cannibal Son Eating Beheaded 7-Year-Old Kidnap Victim
Mydrim Jones
A cannibal was caught by his mother as he was eating a 7-year-old boy he had beheaded.
Nazim Miyan's mother discovered a gruesome sight when she found her son in an abandoned building in Amariya, India.
The horrific scene was later described by an unnamed police officer, who told the Hindustan Times,
The body was lying on the floor with the decapitated head beside it. The skin on the abdomen was missing and internal body parts and bloodstains were scattered across the room.
An image of the corpse that is too graphic to publish has emerged, as well as a photo reportedly of Miyan being held in jail.
He is accused of luring 7-year-old Mohammad Monis into his house while the child was playing with friends in the streets.
He allegedly beheaded the victim, whose neck, arms and legs had been sliced into several pieces, before eating the boy's flesh.
Neighbors alerted authorities, and when police arrived, they found Miyan sitting near the body.
He had been attacked by furious locals before officers got to the scene, and after police saved him by intervening, he gave himself up without resistance.
Police also seized a knife and shovel from the scene of the alleged crime.
Miyan, who has been described locally as a drug addict aged in his mid-20s, was questioned by investigators, but his answers were incoherent, sources said.
Officer Devranjan Verma said,
We will try to complete the investigation of the case and submit the final charge sheet in court.
Miyan has been charged with murder, abduction and wrongful restraint. He is being kept in custody and appeared in court in Pilibhit on Wednesday, February 22.
Meanwhile, crowds of hundreds of people gathered outside a police station where they demanded he should be killed.
The death penalty is legal in India, but is rarely enforced.
Citations: Drug addict beheads 7-year-old boy, eats his flesh in UP's Pilibhit (Hindustan Times), Mother finds her cannibal son eating a seven-year-old boy he had murdered and beheaded in India (MailOnline)