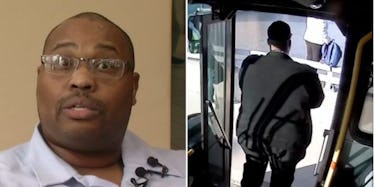 Hero Bus Driver Saves Woman From Jumping Off Bridge After Noticing Tiny Detail
Fox 45
Damone Hudson's compassion has made him a hero.
The bus driver didn't need to stop when he saw a woman standing by the edge of a bridge, and he didn't need to call out to her and offer her a hug.
But when he noticed she was standing on the wrong side of a railing, he didn't think twice -- and his simple act of love helped save the woman's life.
Hudson has been hailed a hero for his simple act of stopping the bus on the Main Street Bridge in Dayton, Ohio, and urging the distressed woman to step back.
Fox 45 reported surveillance footage captured the moment he reached out to her, as he said,
Why don't we come back over on the side of the rail? Hey miss, why don't we come back on this side of the rail for me? Ma'am, you look like you're having a bad day, you know. Can I give you a hug?
He can be seen leaving the bus to speak to the suicidal woman, and he continued to reason with her until police arrived and she finally stepped back.
Then, he continued with his route.
Hudson told WHIO,
I know that every person's struggle is different and everybody's going through something, but you always want to continue. Life is a roller coaster, right? You to up, you're going to come down. But you've got to think "I'm going back up" and hopefully it's going up for her now.
Hudson said the woman replied "no" when he initially asked her to step back after spotting her on the wrong side of the railing.
That's what prompted him to jump out of the bus and do everything he could to help, he said.
After another member of the public called for help, a crisis intervention team from Dayton Police Department arrived to help the woman, who has not been identified.
Hudson told Fox 45,
Yeah, you gotta stop. I'd stop 100 times.
The bus driver of 24 years has been celebrated as "one of the best bus drivers" in the area by his boss Jason Allen.
Police detective Patty Tackett said the driver did a "great job" by relying on his "gut instincts."
Citations: Fox 45 talks with RTA driver who saved woman's life (Fox 45), RTA driver saves woman about to jump off Dayton bridge (WHIO)