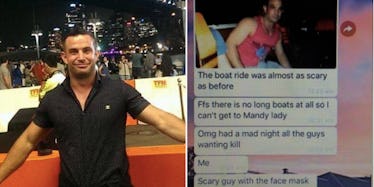 Man Sends Eerie Last Text About 'Scary Guy' To Friends Before Body Is Found
Facebook
A British tourist warned his friends a "scary guy" was trying to kill him in panicked WhatsApp messages sent shortly before he mysteriously died.
Andrew Apperley's body was found a week after he disappeared from Thailand's famous Full Moon Party on February 12.
But his brother, Richard, suspects the 38-year-old property manager was murdered — especially after tracking down the final messages Andrew, from Eastbourne, England, sent to his friends.
He told them, "Omg had a mad night all the guys wanting kill me." He added, "Scary guy with the face mask. After mushroom. What the fuck."
In other messages, he said he believed his drink had been spiked.
Richard said,
I think he's been murdered. Those messages are signs that there was foul play. I want the Thai police to investigate this properly and I don't want it swept under the carpet. He did take drugs, but he didn't go overboard and he knew how to take care of himself. You can see from the messages that he knew he'd been spiked and that he was in danger.
Messages sent by Andrew on the night suggest he took magic mushrooms and Ritalin.
The father of one disappeared from Ko Phangan island on the night of the party, and concerns were raised when messages sent by his mom the next day weren't delivered to his phone.
He had previously flown from Bangkok to Koh Samui to attend the notorious party in Ko Phangan. He was staying at the Ibis Hotel, where he planned to return to by boat the next day.
Authorities in Thailand are investigating the death and are in talks with Gloucestershire Police in England.
A spokesman for the British government's Foreign and Commonwealth Office said,
We are providing support to the family of a British national who has been reported missing in Thailand. We are in contact with local authorities.
Citations: British tourist found dead in Thailand sent disturbing final messages to friends (Metro), Brit tourist mysteriously found dead in Thailand sent chilling last messages about 'scary guy in face mask' (Mirror)