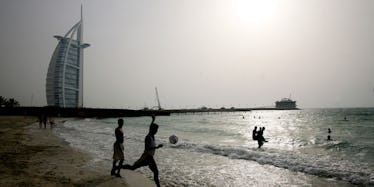 Tourist Who Was Gang-Raped In Dubai Gets Arrested For Sex Outside Of Marriage
REX/Shutterstock
A tourist who claims she was raped by two British men while on vacation in Dubai has been arrested for having sex outside of marriage, it has been reported.
The 25-year-old victim has been charged with "extramarital sex" after she reported the attack to police, according to The Independent.
The woman, who cannot be named for legal reasons, is said to be "absolutely terrified."
She claims she was taken back to a hotel by two British men she met for a drink where they took turns raping her.
They flew home from the United Arab Emirates and back to Birmingham in the UK just hours after the attack, The Sun reports.
The assault was allegedly filmed.
A family friend told The Sun,
They have taken her passport as lawyers thrash it out. She is staying with an English family but she is absolutely terrified. She went to the police as the victim as one of the worst ordeals imaginable but she is being treated as the criminal.
The victim reportedly needs thousands of dollars to pay legal fees.
She has been released on bail but her passport has been taken away so she cannot leave the country.
Speaking from the UK, her mother said the family knows who the culprits are and the incident has been reported to police in England. However, they claim little has been done.
Her father added,
We haven't been getting help anywhere.
The UK Foreign Office has confirmed it is aware of the case and is supporting the woman and her family, adds The Sun.
In Sharia law, it is forbidden to have sex outside of wedlock.
If found guilty in court, punishments vary from jail to flogging and stoning to death, according to The Independent.
It is also against the law to have sex with someone who is married.
Citations: The Independent