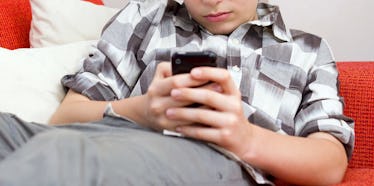 This Boy Shut Down His Teacher Sending Him Nude Pics With One Epic Text
Shutterstock
A 21-year-old karate teacher in Orlando sent highly inappropriate nude pics to her 11-year-old student and told him she wanted to have sex with him, New York Daily News reports.
The teacher in question, Stephannie Figueroa, was arrested by the police on Monday.
She was charged with attempted lewd or lascivious conduct, solicitation and contributing to the delinquency of a minor, showing a minor obscene material and child abuse, according to the Orlando Sentinel.
Police told the Sentinel that the boy's mother called them after she found lewd messages from Figueroa on her son's phone via the messaging app, Kik.
The 21-year-old reportedly sent the boy nude photos and invited him to her 21st birthday party, telling him no one else would be home.
In the message where she invited him to the party, Figueora said,
I want to have sex with you.
The boy's response to this deplorable and illegal behavior prevented the situation from escalating. He said,
OK IDC.
By "IDC," he meant, "I don't care."
With just a few simple letters, this young man refused to allow an already terrible situation to become worse.
But with that being said, we should not diminish the serious nature of this crime.
It often seems as though when scenarios like these arise – when a female teacher makes advances on a male student – people feel the need to celebrate the fact that a young boy was approached by an older woman. But there is nothing to applaud about this.
Yes, the boy's response to the teacher's disgusting sexual advances was correct and showed maturity.
But, no, this is not an instance in which we should high-five the boy because an older woman was attracted to him, and he acted unfazed.
The tweets below perfectly explain what's wrong with this mentality.
Indeed, it's never appropriate to make light of a situation that involves a minor who was victimized by a sexual predator.
This was a crime: plain and simple. A person who was entrusted to be a role model for this young man betrayed both him and all of her other students.
Correspondingly, investigators believe Figueroa may have preyed on other children at the karate school, and are asking anyone with further information to speak up.