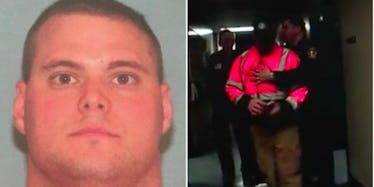 Boy Scout Leader Has Strangest Reaction To Rape Arrest In Unsettling Police Vid
Olmsted Falls Police/FOX 8
A boy scout leader and volunteer police officer have been arrested on suspicion of repeatedly raping an underage boy.
Aaron Robertson was called into Olmsted Falls Police Station in Ohio under false pretenses and arrested by officers when he arrived.
Olmsted Falls Police Chief William Traine said there were more than 10 instances of abuse against at least one victim.
Some of the sexual abuse reportedly happened in a shed used by a boy scout group, which is behind the Falls-Lenox School.
Body camera footage obtained by FOX 8 shows the ambush arrest taking place as officers surround Robertson.
One officer tells him, "Aaron, you're under arrest for rape," to which the 28-year-old replies,
Oh. Well that's not good.
Robertson has served as an auxiliary police officer for five years but was fired by Traine on Monday, March 6.
He was also the troop leader for a scout troop in Olmsted Falls, but it's unknown how long he had been a leader for and whether the attacks happened while he was in charge.
Traine told WOIO,
You enroll your son into boy scouts to teach the better things in life, the qualities of life. You feel like it's secure, that it's beneficial. When something like this happens, it's devastating — not just for the boy scouts, but to the other children and future children that want to go into the boy scouts.
Police were made aware of the accusations when someone called a child protective services hotline.
In a statement, Marc Ryan, a local CEO with the Boy Scouts of America, said,
The safety of our youth members is of paramount importance. The behavior included in these allegations is abhorrent and runs counter to everything for which the Boy Scouts of America stands. They also remind us how important it is to always be vigilant when it comes to the safety of our youth.
Robertson has been charged with one count of rape and was booked into the Strongsville Jail, where he remains.
He appeared in court on Tuesday, March 7 and the investigation continues.
Cleveland 19 News Cleveland, OH
Citations: I TEAM: Exclusive video of arrest of Boy Scout leader (FOX 8), Volunteer Olmsted Falls officer, Boy Scouts leader 'involved in multiple rapes' (WOIO)