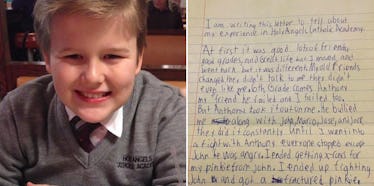 A 13-Year-Old Killed Himself Over Bullying After His School Refused To Help
GoFundMe / Facebook
Daniel Fitzpatrick was only 13 when he took his own life in surrender to to the bullying he faced.
According to the New York Daily News, the Staten Island boy committed suicide on Thursday after pleading with teachers at his school to help with the bullying to no success; the school refused to intervene.
I wanted to get out and I begged and pleaded.
Sometime before he hanged himself by a belt in the attic of his family's home, Daniel wrote a letter to explain how he felt and how the bullying, and lack of help from anyone, affected him, with the intent to deliver the letter to his school.
According to images of the letter in a Facebook post from a friend of Daniel's family, Daniel said in his letter,
I am writing this letter to tell about my experience in Holy Angels Catholic Academy. At first, it was good, lots of friends, good grades, and great life, but I moved and went back, but it was different. My old friends changed. They didn't talk to me, they didn't even like me. 6th grade comes, Anthony, my friend, he failed and I failed too. But Anthony took it out on me. He bullied me along with John, Marco, Jose, and Jack. They did it constantly until I went into a fight with Anthony. Everyone stopped except John, he was angry. I ended up getting x-rays for my pinkie from John. I ended up fighting John and got a fractured pinkie. He got into a lot of trouble. As for me, no trouble at all. But they continued. I gave up the teachers either, they didn't do ANYTHING! Not get them in trouble even though they did trouble I got in trouble instead. Anthony was mad at me because he believed I failed him. Mrs. McGoldrick didn't do anything. I told all the teachers nothing except one Ms. D'Alora. She was the nicest teacher ever. She understood and did something, but it didn't last long. I wanted to get out and I begged and pleaded eventually I did get I failed, but I didn't care, I was out, that's all I wanted.
The letter, written after the school recommended Daniel repeat seventh grade at another school, honestly makes me want to cry.
Thank God for you, Ms. D'Alora, for trying to do something. As for you, Mrs. McGoldrick, I hope you realize, as the principal of a school, bullying is real. It's not boys being boys, it's not kids having fun, it is a kid, or often kids, causing untold emotional damage to someone vulnerable.
Daniel's story has since been shared over 85,000 times on Facebook.
The outpouring of concern and support prompted Danny's father, also Daniel Fitzpatrick, to go on Facebook Live on Saturday to talk about his son. The video's a little over 18 minutes long and it will break your heart.
The father's sorrow (and anger) is palpable as he speaks, frequently in tears, about his son, saying,
I miss my son very much. No parent should have to bury their child. No child should have to go through what my son went through.
He added that everything the New York Daily News reported was true, including how he and his son unsuccessfully tried to get the school involved.
And now, a boy is dead.
Danny was only 13.
If you're wondering if there's anything you can do to help the family, Danny's sister started a GoFundMe to help with funeral expenses.
Citations: EXCLUSIVE: Staten Island boy, 13, kills self after Holy Angels Catholic Academy staff 'didn't do anything' to stop bullying (New York Daily News)