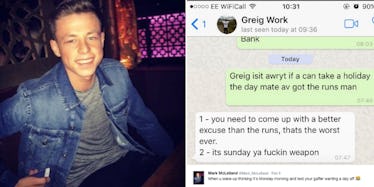 Boss Has Hilarious Reply To Hungover Guy Who Called In Sick On His Day Off
Twitter
It's the Monday after the Super Bowl, and you probably know someone who has taken the day off work because he or she is "sick."
In fact, almost everyone in Boston seems to have come down with the same mysterious "virus" — although they're expected to be just fine and back to work tomorrow.
Yep, millions of Americans are nursing hangovers today and have made up creative excuses to tell their bosses why they can't come in.
When it comes to calling in sick — when in fact you're really recovering from the night before — I have a free tip for you: Make sure you're actually meant to be at work that day.`
Basically, do the exact opposite of what Mark McLelland did.
After two massive nights out in a row, Mark, from Glasgow, Scotland, woke up Monday morning and just could not hang.
The 20-year-old was feeling so rough, he hit up his boss Greig on WhatsApp to tell him he couldn't make it in for his job in landscape gardening.
There was only one problem: It wasn't Monday morning.
It was actually Sunday, and while Mark was blessed with that beautiful moment when you realize you have a whole extra day off, he managed to embarrass himself big time — especially because his excuse was he was suffering from, er, issues in the bathroom.
Props to Greig for absolutely nailing the reply.
Not only did he call Mark out for his terrible excuse, he also branded him a "fucking ing weapon," which seems fair enough.
Mark told The Sun,
I was at a party on the Friday and I carried on drinking through to the Saturday and I had lost track of what day it was. I woke up thinking it was Monday and I couldn't get out bed so the first thing that came to my mind was the runs. I never expected that reply, but we usually get on well in work so we both saw the funny side to it.
Moral of the story? When you've so much to drink you don't even know what day it is, check your phone's calendar before you text your boss.
Citations: PULLING A THICKIE Boss sends hilarious reply to hungover worker who tried to phone in sick… on a Sunday (The Sun)