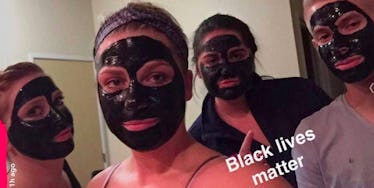 College Students Make Fun Of 'Black Lives Matter' In Blackface Snapchats
Snapchat
Four students at the University of North Dakota poked fun at the Black Lives Matter movement by covering their faces in black face masks and captioning the photo "Black lives matter."
In the racist photo posted to Snapchat, three girls and one boy look blankly into the camera. Each one's face is covered in a black face mask, and the sarcastic "Black lives matter" caption is on the bottom right hand side.
Black Lives Matter emerged as a response to the shooting of Trayvon Martin and his killer's acquittal. It's a movement that seeks to fight racism and violence toward black people across the US.
This is not the first racist photo to surface at UND. Three days earlier, students stole a black student's phone without her knowledge, and posted a photograph of them posing with the caption "Locked the black bitch out."
The black face mask photo has since been circulated around the University of North Dakota, thereby causing outrage. The university began to investigate after another student, Etonde Maloke, posted both the photographs to Facebook.
She wrote,
We all know Racism is alive and well (whether you like to admit it not). When said acts of racism happen at your school, it is infuriating and heart breaking.
People on Facebook were appalled at the behavior.
One user commented,
This is disgusting and totally unacceptable...whoever thinks this is a joke needs their mental status evaluated. Thanks Queen for standing up against this.
"I'm so ashamed I go to UND right now, this is disturbing and we will not stay [quiet] about it," another user wrote.
The president of the university, Mark Kennedy, also had some strong statements to make.
I am appalled that within 48 hours, two photos with racially-charged messages have been posted on social media and associated with the UND campus community. I have been disappointed to learn that we have people in our university community who don't know that the kind of behavior and messaging demonstrated in these two photos is not OK, and that, in fact, it is inexcusable.
This is seriously terrible.