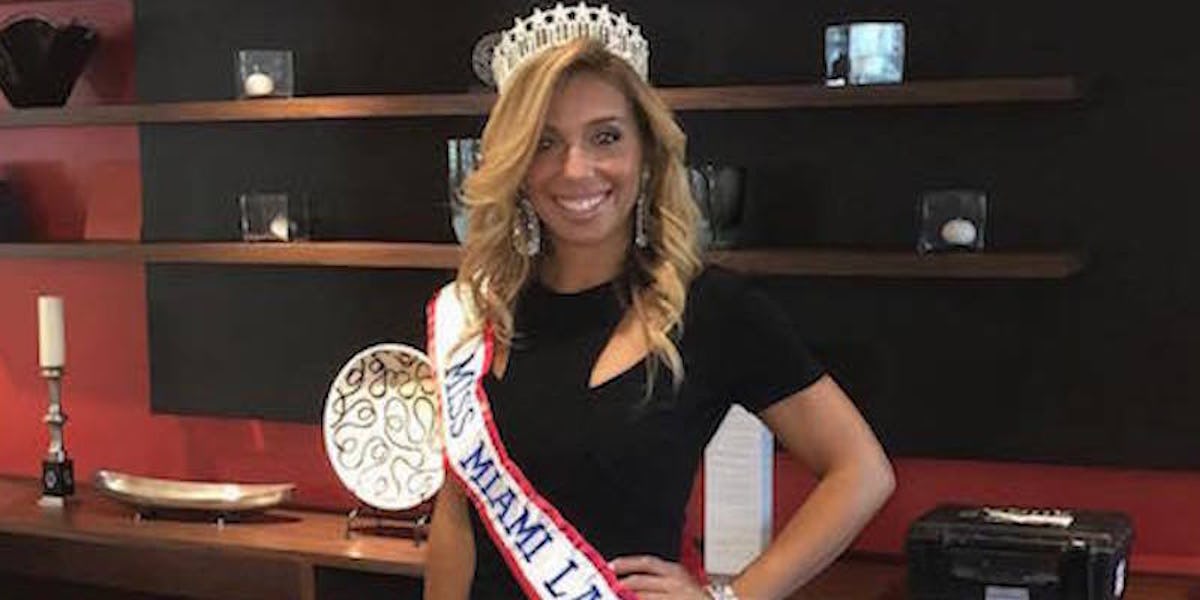 Beauty Queen Arrested After Drunkenly Beating Man With Bat In Snowman Onesie
Vanessa Barcelo seems to have a lot going for her.
This drop-dead gorgeous 26-year-old is a beauty queen who holds the title Miss Miami Lakes and is a contestant in the running for Miss Florida USA 2017.
Plus, Barcelo can bake one hell of a cake and even has a booming bakery business called One Love Cakes.
However, it appears this baking beauty queen has been doing more than just beating eggs and whipping cream lately.
Yep, Miss Miami Lakes is taking the heat after drunkenly beating a man with a bat in a snowman onesie.
Barcelo was arrested Wednesday for assault with a deadly weapon after she attacked a man with an aluminum baseball bat.
Local 10 reports that Barcelo was hosting a party for her cake business at her Hialeah apartment when she got into an argument with one of the guests.
As the argument escalated, Barcelo allegedly ordered the man to leave her party.
According to police reports, Barcelo and an unidentified man continually pushed the victim down the stairs as he was exiting the party.
NBC Miami reports that after they got outside, Barcelo, who was armed with a baseball bat, allegedly began swinging at the victim, striking the man on the shoulders and back.
A security guard quickly responded to the ruckus and took the bat away from Barcelo.
However, police reports allege that Barcelo's unidentified accomplice managed to sneak up on the victim and punch him in the face, causing the man to fall to the ground.
Then Barcelo allegedly ran up to the victim and hit him in the face several times while he was helplessly lying on the ground.
The victim eventually escaped from Barcelo and called 911 for help.
The man was rushed to the hospital where he was treated for several injuries including a severely damaged eye.
Barcelo was taken into police custody and charged with aggravated assault with a deadly weapon, aggravated battery and battery.
According to a Hialeah police report, Barcelo and most of the guests at the party were "very intoxicated."
Barcelo's lawyer, Josef Timlichman, went to bat for his client by denying the allegations against her.
Timlichman told NBC Miami,
We are confident that once all of the facts that occurred last night come to light, my client will be absolved of any criminal responsibility. We intend to fight these charges and prove that Vanessa is innocent of any wrong doing.
The beauty queen's lawyer also said, "Vanessa is a sweet, sweet individual, very caring individual, a non-violent individual who in the circumstances did what she felt was appropriate."
As far as Barcelo's beauty pageant title and standing as a contestant concerned, the Miss Florida USA Pageant stated,
While we cannot comment on the potential outcome of a case as it proceeds through the judicial system, specific morality clauses within each pageant delegate's description of duties would be taken into consideration upon a legal ruling.
Barcelo was released from jail on a $1,500 bond and authorities will continue their investigation.
Citations: Miss Florida contestant is arrested in a snowman onesie after 'drunkenly beating a man with a baseball bat at a party promoting her cake business' (Daily Mail)