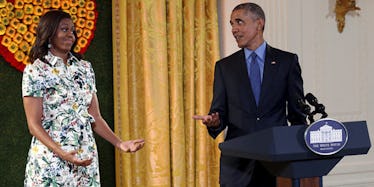 Barack Obama Compares Michelle to Beyoncé In Adorable Video Praising Jay Z
REUTERS
Barack Obama can't help but praise his wife, Michelle.
In a video tribute that was supposed to be all about Jay Z, our 44th POTUS slipped in a dose of reality: Beyoncé and Michelle are pretty damn popular.
In the video, Obama said,
Jay and I are also fools for our daughters, although, he's gonna have me beat once those two twins show up. And let's face it: We both have wives who are significantly more popular than we are.
Yup, that sounds about right.
Obama made these remarks in a message that recognized Jay Z for being inducted into the Songwriters Hall of Fame on Thursday, June 15.
The Brooklyn-born rapper is the first hip-hop artist to achieve such a feat.
Obama began his congratulatory message by mentioning just how much he, the former president, and Jay Z have in common (which is a sentence the 2007 version of yourself never thought you'd hear).
You probably also never thought a former president would say this:
Like all of you, I am a fan, and I've been listening to Jay since I was a young and hungry state senator... I'm pretty sure I'm still the only president to listen to Jay Z's music in the Oval Office. That may change at some point, but I'm pretty sure that's true now.
Obama's tribute to Jay Z is a reminder of a couple things.
First, never forget the time our man dusted his shoulders on the campaign trail.
Second, let's all remember that the relationship between the Obamas and Carters pretty much started when Beyoncé sung for Barack and Michelle's first dance.
Third, Barack Obama almost always takes an opportunity to throw shine on Michelle Obama.
It all makes sense.
If there's anyone who should be in constant deference to their spouses, it should definitely be Beyoncé and Michelle Obama's husbands.