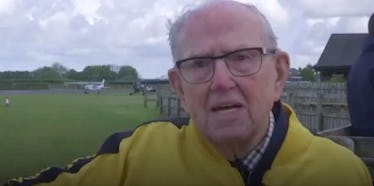 This Badass 101-Year-Old, WWII Veteran Just Became Oldest Person To Skydive
Twitter
On Sunday, May 14, 2017, Bryson William Verdun Hayes, known as Verdun, became the oldest person in the world to skydive.
Hayes is 101 years old and from southwest England.
According to The Guardian, Hates completed a tandem skydive with three generations of his family at an airfield in Honiton, Devon in the United Kingdom.
When he reached the ground, after jumping 15,000 feet from a plane, Hates reportedly said "hooray" and he was "over the moon" about his accomplishment.
The previous record-holder was 101 and 3 days. Hayes was 101 and 38 days when he jumped.
He became the British record-holder for oldest skydiver when he jumped at 100, but now the great-grandfather holds the world title.
Talk about life goals.
Apparently, he wanted to do something like this back when he was a younger man (90 years old), but his wife, who has since passed, wouldn't let him.
When he jumped on Sunday, he was joined by 10 members of his family, including his great-grandson Stanley, 16, his grandson Roger, 50, his son Bryan, 74, and his great-granddaughter Ellie, 21.
All of them were raising money for The Royal British Legion, a charity that supports members of the armed forces, veterans and their families.
According to CNN, Hayes has raised over $3100 so far.
Verdun Hayes served in World War II, including on D-Day, and was named after a famous World War I battle.
Hayes was named Verdun after his father, Joseph Hayes, who served in World War I and fought at the Battle of the Somme, wrote home to his pregnant wife at the frontline and suggested they name their son after the Battle of Verdun.
During World War II, Hayes served in the British army and was presented with a Légion d'honneur for his heroic actions in the Netherlands, Belgium, Germany and Normandy, France.
The former lance corporal in the Royal Signals was part of the D-Day campaign that ultimately saw Europe liberated from the Nazis.
While serving, Hayes sustained shrapnel injuries to his ribs and hands in an explosion.
The explosion killed his friend, Sgt. Edgar Robertson.
Speaking with The Guardian, Hayes said,
How I came home from World War II, I do not know. I was so near to the edge of everything. I lost any amount of friends in no time at all really. I just didn't think I would ever return home.
This brave and adventurous man clearly made the most of his life after the war and is an example for all of us.
Citations: D-day veteran becomes world's oldest skydiver at 101 and 38 days (The Guardian)