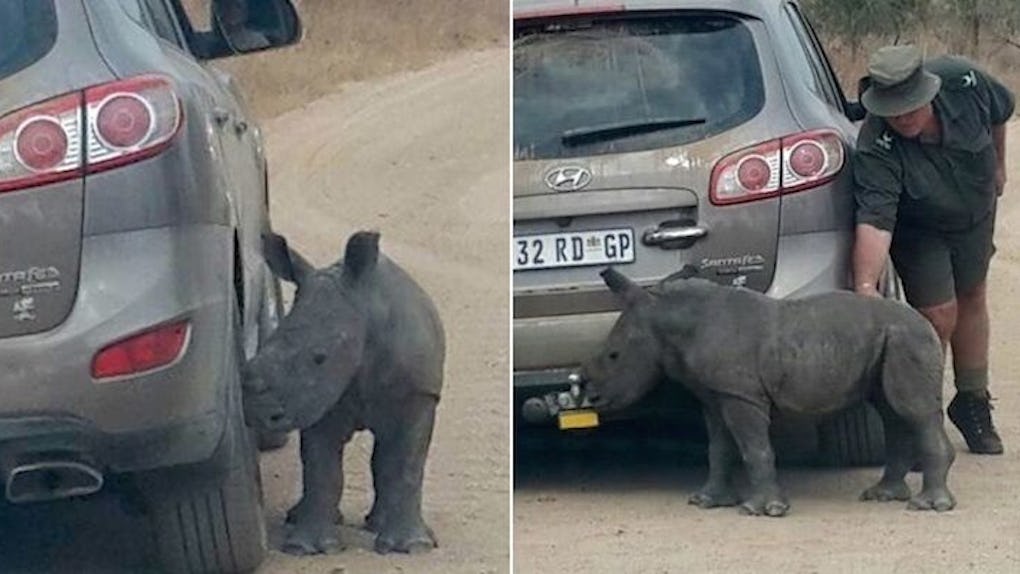 Facebook
Orphaned Baby Rhino Thinks A Car Is Its New Mom, And We're Sobbing
This is like a real-life version of PD Eastman's children's book "Are You My Mother?"
A baby rhino recently mistook a car for its new mom.
Orphaned rhino Donnie roamed onto a tourist road after his mother was killed by poachers.
Debbie English's father removed Donnie from the roadside and transferred him safely to South Africa's Kruger National Park.
In a Facebook post, English reportedly said,
My father and the veterinarian managed to tranquilize the poor little thing and fly him to his new home… but not without any hiccups along the way. The pilot had to make an emergency landing after this little guy flat-lined… After 3 minutes of resuscitation and trying everything to save him… everyone involved was amazed (some with tear filled eyes) when he gasped for air and his little heart started up again.
English hopes Donnie's experience will bring attention to the consequences of poaching because not every baby rhino is as lucky as this one.
She continued, "After a rough ride he finally made it to his new home where he probably had a good snooze and is now hopefully settled in."
Citations: Orphaned baby rhino thinks this jeep is his new mum – all the tears (Metro)