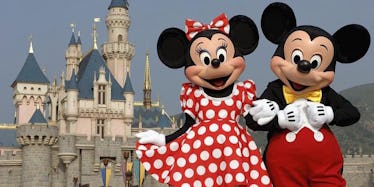 US Authorities Reportedly Stop Muslim Family From Flying To Disneyland
Getty Images
US authorities banned a British Muslim family from boarding a flight to Los Angeles for reasons unknown.
Mohammad Tariq Mahmood along with his brother and nine of their children spent months looking forward to visiting relatives in southern California and going to Disneyland.
But right before the family was about to board a flight out of London's Gatwick Airport on December 15, US officials informed Mahmood his family's authorization to enter the US had been revoked.
Mahmood told The Guardian he was not provided any reasoning for the ban, but is quite certain he already knew the answer.
He said,
It's because of the attacks on America -- they think every Muslim poses a threat.
After being ordered to return everything they bought at the airport, the family of 11 was then escorted from the building.
The $13,340 spent on the flights will not be refunded, Mahmood said.
According to The Washington Post, the family obtained travel authorization online, but it's unclear if someone in the family was on a no-fly list or if each family member was a British citizen.
In an interview with ITV, Mahmood stated no members of his family have been arrested, traveled to Syria or been found to be linked to a terror cell.
He told The Guardian,
I have never been more embarrassed in my life. I work here, I have a business here. But we were alienated.
United Kingdom Prime Minister David Cameron will reportedly look into the matter and possibly challenge the family's flight ban.
Six days ago, a Muslim imam and lecturer who lives in England was told his authorization to travel to the US had been revoked at the last minute as well.
Ajmal Masroor spoke of his experience on Facebook.
He wrote,
[I'm] baffled, annoyed and angry at the moment. USA has the right to issue and revoke visa - I fully understand that. However not forwarding any reasons infuriates ordinary people. It does not win the hearts and minds of people, it turns them off. I am amazed how irrational these processes are but does USA care about what you and I think? I don't think so!
Despite requests from the media, the US government is yet to explain why Masroor or Mahmood's family was denied entry to the US, though Masroor is scheduled to meet with US embassy officials.
Citations: US stops British Muslim family from boarding flight to visit Disneyland (The Guardian), U.S. keeps Disneyland-bound British Muslim family out of the country (The Washington Post), US 'stops British Muslim family from flying to Disneyland' (ITV)