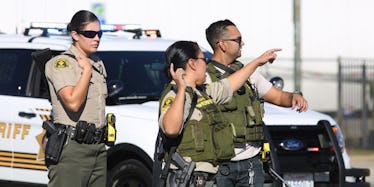 Former Australian Politician Calls For US Travel Warning After Shootings
Getty Images
By now, you've all seen the terrible statistics about gun violence in the United States.
To say gun violence in the US is getting out of hand is putting it mildly, just take a look at this ridiculous map showing all the mass shootings in the US in 2015 alone.
It's getting dangerous here in the United States, and if one former Australian politician had his way, his country would issue a travel warning for America.
In an interview with Australia's ABC News, former Deputy Prime Minister Tim Fischer says,
It's time to call out the USA. Three hundred and fifty two mass shootings in the USA so far this year but about 80 a day you don't hear about.
But Fisher has his facts wrong. The San Bernardino shooting was actually our 355th shooting, not our 352nd.
Fisher added, a person is 15 times more likely to be shot dead in the US than in Australia. He believes the travel warnings should reflect this danger, as do the travel warnings for Mexico.
As of Friday, Australia's Department of Foreign Affairs and Trade simply tells travelers to "exercise normal safety precautions" while traveling to the United States.
The site adds,
Exercise common sense and look out for suspicious behavior, as you would in Australia.
But, here's the rub: Australia hasn't had a mass shooting since 1996, following the implementation of stricter gun laws. And Fisher would know a thing or two about this, as he helped champion the stricter laws in Australia.
Maybe Mr. Fisher is onto something.
Citations: Former Australian Politician: Country Should Issue Travel Warning for US After Shootings (Mic)