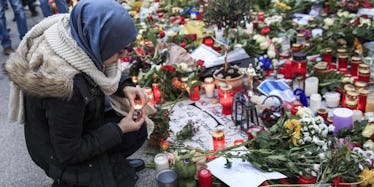 Messages Honoring Victims Of Paris Attacks Will Be Preserved Forever
Getty Images
Hundreds of drawings, notes and poems left at the sites of last month's attacks in Paris are being collected in an effort to preserve their moving displays of love.
According to Huffington Post, the French capital made the decision to put the tributes into the Archives of Paris the week after several gunmen and suicide bombers left 130 people dead on November 13.
Relatives and friends of the victims, as well as strangers both young and old, since left paper messages, candles and flowers at the sites of the attacks.
The drawings, many of which were done by children, and countless notes address specific victims by name.
All of these acts of compassion, even those that have wilted or endured rain, will reportedly be archived and, in the case of paper tributes, treated to prevent molding.
On Tuesday, Guillaume Nahon, the director of the Archives of Paris, told the Associated Press,
We're trying to combine two objectives: to maintain these memorials during the time of grief and at the same time, to save the tribute notes.
Some of the messages point out how the fun-loving Parisian culture can never be conquered by violence.
One message says,
We'll keep living, laughing, singing together, refusing the Barbary that kills innocent peoples.
Archivist Audrey Ceselli said she tries to avoid reading the messages due to their heavily emotional content that would keep her from concentrating on her work.
She told the Associated Press,
To go there is difficult for us, as Parisians... We are paying attention to the notes because they are fragile, but we don't focus on the substance for now.
Raphaelle Fontaine, a 22-year-old French student, views the messages as "part of Paris' history" and "a way to keep the victims' memory alive."
The notes will additionally be scanned and eventually displayed on an upcoming website.
Citations: Archivists In Paris Are Saving Poems And Drawings Left By Passersby (Huffington Post)