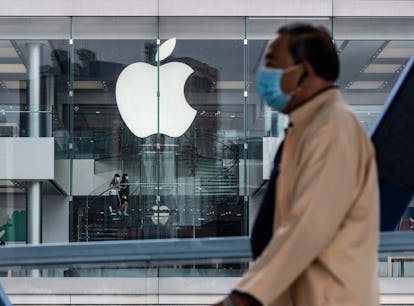 Major Apple Services Like Maps And iMessage Went Down On March 21 — Here's What To Know
You can check the status of the issues, too.
SOPA Images/LightRocket/Getty Images
No, it's not just you — if you're wondering whether Apple services were down on March 21, here's what you need to know. Outages were reported on apps like Maps, the App Store, and iMessage, and though all the affected apps are up and running as of around 2:30 p.m. ET, it's not exactly clear why they were down in the first place. Elite Daily reached out to Apple for information regarding the outage, but did not hear back in time for publication.
Downdetector first began reporting that Apple users were experiencing a range of different problems related to the outage around noon ET on March 21. If you want to know which apps have been acting up, you can follow along with Apple's system status page as they update the page with any changes in real time. (As of 4:15 p.m. ET on March 21, there are no active outages.) You can click on each app name to get a rundown of the bugs and issues people have been experiencing, as well as a time stamp of when the page was last updated.
At 3:38 p.m. EST, all the apps listed on the system status page were restored to normal. Some of the first Apple services to be fixed included iMessage and iCloud, which were reported to be up and running at 1:13 p.m. ET, while Maps was corrected around the same time at 1:14 p.m. ET. Other apps like the App Store, Apple Fitness+, Apple TV+ iTunes, and Podcasts must have taken a little longer to correct, because their issues weren't marked as resolved until 2:37 p.m. ET.
With a range of outages, there was likely something going on with the Apple servers, but the company didn't address the specific cause of the issues other than updating the status page. As of 4:20 p.m. ET, Downdetector reports for outages on apps like Maps, App Store, and more services are back to baseline levels, after reaching highs of more than 7,000 reports of issues at 1 p.m. ET.
During the issues, people took to Twitter to share their frustration. Since iMessage users weren't able to get in touch with their group chats about the outage, many people took to Twitter to express their concerns about the situation — and to make a few jokes, too.
I refuse to go back to printing out directions.
Have they tried turning it off and back on yet?
The issues appear to be fully resolved, but take a cue from Twitter: It's always good to have a back-up group chat.