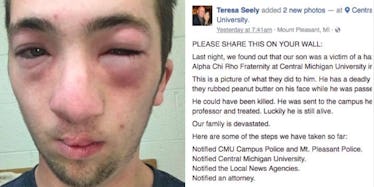 Mom's Pics Of Son Go Viral After College Frat Hazing Leaves Him Unrecognizable
Facebook
Hazing can go way, way too far — and these shocking pictures are a prime example of why it can be so dangerous.
They show what happened to Andrew Seely, a 19-year-old student with a deadly nut allergy, when frat boys rubbed peanut butter on his face while he was passed out.
The teen was left unrecognizable by the brutal hazing at Central Michigan University, which was exposed by his mom in a Facebook post on Wednesday.
Teresa Seely wrote,
He could have been killed. He was sent to the campus health clinic by a professor and treated. Luckily he is still alive. Our family is devastated.
The incident, which involved members of Alpha Chi Rho fraternity, happened back in October, but Andrew kept it quiet.
He has since transferred from CMU, where he was studying accounting, because of what happened.
Mrs. Seely told the Detroit Free Press,
We thought we were sending our child off to school in a safe environment, and obviously that wasn't the case.
She has reported the incident to the university and police and has notified an attorney.
Alpha Chi Rho is not a sanctioned organization at the university and is based in a house off-campus, according to university spokeswoman Heather Smith.
She said the fraternity lost its status back in 2011 — for hazing — and failed when they reapplied for registration last fall.
The university is investigating potential violations of the student code of conduct, which could lead to suspensions and permanent dismissal.
Smith added,
We're trying to learn more. We take these types of matters seriously, and it will be pursued very thoroughly.
Andrew carries an EpiPen and allergy tablets in his wallet, but could not react to the situation as he was passed out.
It is not known if the other students knew about his allergy.
School officials and authorities are investigating.
UPDATE: Alpha Chi Rho issued a statement on Thursday where the fraternity robustly condemned the incident and insisted the students involved were not official members.
The statement read,
The National Fraternity of Alpha Chi Rho is appalled and upset by the actions taken by individuals against Andrew Seely. The individuals involved were not members and acted independently. Alpha Chi Rho does not condone this type of behavior -- or ant form of hazing -- and it stands in conflict with our mission to cultivate men of character, honor and integrity. Prior to this incident, when we learned that a small group of individuals had been improperly operating under our name, we promptly sent a letter to these men to stop all activity or representation of our fraternity.
Citations: Detroit Free Press