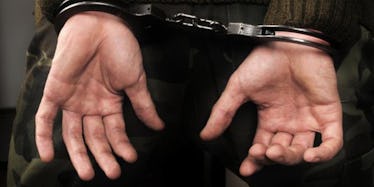 US Marine Gets Up To 12 Years In Prison For Killing Transgender Woman
Getty Images
A US Marine was convicted of killing a Filipino transgender woman after learning of her sexual identity.
Lance Corporal Joseph Scott Pemberton, 20, was in the Philippines in October 2014 to participate in joint military exercises.
During a break from training, Pemberton accompanied a group of Marines to a bar in Olongapo. There, he met a transgender sex worker named Jennifer Laude, along with another transgender woman known as Barbie.
The three went to a motel, but Barbie urged her friend to leave before Pemberton, from Massachusetts, discovered Jennifer was born a man.
It seems, however, Pemberton already paid Laude to have sex with him.
Pemberton told the Philippine court he learned Laude was transgender after she performed oral sex.
He pushed her away, and Laude slapped him so hard "his ear started ringing," Pemberton said.
She tried to hit him again, Pemberton said, but he punched and choked her unconscious. He told the court he then put her head in the toilet in hopes of reviving her.
Pemberton said Laude was alive when he walked out of the room, but the woman, formerly known as Jeffrey, drowned in the toilet bowl.
According to The Washington Post, a Philippine court found Pemberton guilty of homicide and sentenced him to six to 12 years in prison earlier today.
The conviction is different than murder, since one can only be charged and convicted with murder in a Philippine court if the act is proven to have involved treachery, superior force and cruelty.
Laude's mother hoped Pemberton would be convicted of murder. She said,
But the important thing is he will be jailed. [Laude's] life is not wasted.
Pemberton was also ordered to pay Laude's family the equivalent of approximately $130,000, USA TODAY reports.
The Marine, who was an anti-tank missile operator, gets to serve a slightly shortened sentence since he was detained at a Philippine military camp for over a year.
Prosecutors pushed for a murder charge, but the judge apparently determined Pemberton did not intend to kill Laude.
Officials from the US and the Philippines will decide where Pemberton will be imprisoned.
Citations: U.S. Marine convicted of killing transgender Filipino (The Washington Post), U.S. Marine found guilty of killing transgender Filipino (USA TODAY)