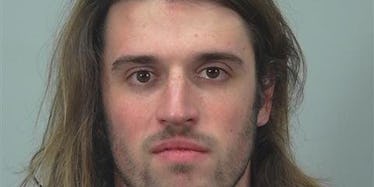 Student Charged With Sexual Assault Kept Eerie Notebooks About His Victims
Dane County Jail
It looks like someone is giving Donald Trump a run for his money when it comes to being exposed as a totally creepy man with a propensity toward sexually assaulting women.
Alec Cook, a junior at UW-Madison, was charged with multiple accounts of sexual assault on Wednesday. A woman claimed he assaulted her at his apartment earlier this month.
But that was just the tip of the iceberg.
Cook was arrested again on Thursday after another woman gathered the courage to come forward and claimed, according to police, he had sexually assaulted her last year.
It gets worse.
On Friday, a third woman came forward with her own sexual assault allegations against the UW Madison student.
But wait, there's more.
Assistant District Attorney Colette Sampson says a fourth woman has come forward since then. The charges from her case will be included in the 30-count criminal complaint being filed against Cook this coming Tuesday.
As of today, police say Alec Cook assaulted 4 women. UW-Madison Frat Boy Accused of Serial Rape. https://t.co/C13yeqn4B0 pic.twitter.com/CsvF7glGyA — Kate Briquelet (@kbriquelet) October 25, 2016
The charges include "11 felony sexual assault counts, two counts of false imprisonment, one strangulation count and more than 15 misdemeanor sexual assault counts."
There's still more.
Two more women have also contacted the police. Sampson expects more sexual assault charges related to one of the women and stalking charges from the other.
And if that wasn't irksome enough for you, don't worry, IT GETS INSANELY WORSE.
When police were searching Cook's apartment, they found a notebook allegedly containing his grooming and stalking techniques for multiple women. Sampson says there were more than 20 of these notebooks, but only one has been reviewed by investigators so far.
Sampson showed Court Commissioner Jason Hanson what she claims to be a copy of the index page in one of his notebooks.
According to her, the page lists the interests of the women he was pursuing, what he would do with them and a column marked "kill" that she left undefined.
"Since then, there have been individuals who have come forward, and law enforcement is looking through those books to search out additional victims that might be found," Sampson explained.
It's amazing what can happen when just one woman is strong enough to come forward.
Citations: Prosecutor says UW student will face 30 charges, many involving sex assaults of 4 women, more possible (Wisconsin State Journal)