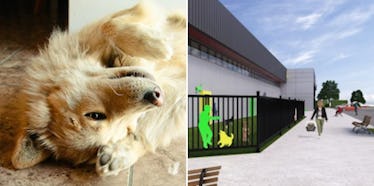 Airport Pet Terminals Exist, So Now Your Furry BFF Can Travel Worry-Free
Flickr/The Ark
John F. Kennedy Airport in New York is getting a brand-new terminal for animals.
The ARK at JFK is going to be a beautiful facility for animals of all kinds — from baby pups to big horses.
It's going to be 178,000 square feet on 14.4 acres. The facility will be open 24 hours a day, seven days a week to care for your pets at all times — before and after flights.
It's going to have a bunch of crates and living spaces for these animals to hang out in, as well as ample room for larger animals.
Horses will have a space for quarantine after international travel, and they're helpful for understanding travel laws with animals.
It will also have a crazy spa space where animals can chill. The spa will have things like grooming, massage therapy and bone-shaped pools. Animal pals can get "pawdicures with colored nail pawlish."
There's a "top dog suite" where dogs can sleep in big beds, watch TV and talk to their owners via webcams.
And don't worry: They'll have framed photos of their owners so they never forget who locked them into this facility away from home overnight.
The ARK at JFK is a $65 million project that is supposed to be finished later this year.
It all sounds great except for, uh... hold up one second: The dog gets a human-sized bed and I'm just supposed to curl up on a pleather chair and stick it out?
I mean, OK, if you've ever flown through John F. Kennedy airport — and you've also been to any other airport — you know it sucks.
New York airports are notoriously terrible. It's one thing Trump and me actually agreed on.
The ARK is a private project, so I can't be that mad, but honestly? What the heck?
Citations: JFK airport is getting a special pet terminal so animals can travel in style too Read more: http://metro.co.uk/2017/02/17/jfk-airport-is-getting-a-special-pet-terminal-so-animals-can-travel-in-style-too-6454499/#ixzz4ZMJwckUJ (Metro)