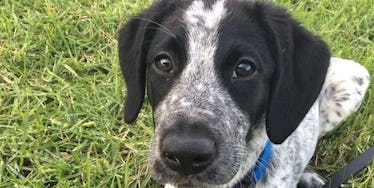 Police Shoot Airport Security Dog For Running Loose And Everyone's Outraged
REUTERS
A puppy who was training to be an airport security dog was shot dead by police after he ran loose on the runway and disrupted flights.
The drastic action was taken after 10-month-old Grizz escaped from his handler at Auckland Airport in New Zealand. Authorities were unable to catch him for more than three hours.
In the end, authorities decided their only option was to kill the innocent animal, who was being trained to detect explosives by New Zealand's Aviation Security Service and was six months away from graduating.
Airport staff and the security service failed to recapture Grizz before calling in police as a last resort, Police Inspector Tracy Phillips said.
This explanation was not good enough for many people.
Some asked why a tranquilizer gun wasn't used.
The events escalated quickly.
New Zealanders were ashamed by the incident.
The death has left a lot of people really, really upset.
Now New Zealand has its own Harambe.
At least 16 flights were disrupted while Grizz was loose, authorities said, leading them to kill the dog.
In a statement, Phillips said, "This is not an outcome which anyone wanted."
Radio New Zealand reported the bearded collie and German short-haired pointer cross escaped as it was being loaded into a van.
Grizz then slipped through a security gate that had opened to allow a truck through.
His escape led to chaos, with airport staff using toys, other dogs and food to attempt to coax him away from the tarmac.
Mike Richards, a spokesman for Aviation Security Service, said,
He did not have a permanent handler so was less responsive than a dog with a permanent handler. When he was located he would not let anyone near him and kept sprinting across the runways. We tried everything; food, toys, other dogs, but nothing would work.
Citations: People are angry after this airport sniffer dog was shot when it got loose (Mashable), Airport security dog shot, killed after running loose on tarmac (Fox News)