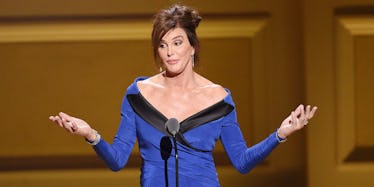 9/11 Hero's Husband Returns Award After Magazine Honors Caitlyn Jenner
Getty Images
It turns out not everyone was moved by Caitlyn Jenner's Woman of the Year Award acceptance speech, including widower James Smith.
The 53-year-old lost his wife, Moira, in the line of duty during 9/11.
Moira helped evacuate victims out of the second tower during the 2001 terrorist attacks that took her life.
After her death, Glamour magazine gave Moira the Woman of the Year Award during its 2001 ceremony, and James accepted it in her stead.
This year, reality star and recent transgender activist Caitlyn Jenner numbered among the recipients of the same award, causing James to mail his wife's award back to the magazine.
A retired officer himself, James attached a letter referring to Caitlyn as "Bruce" -- Caitlyn's former male moniker -- and insisted the 2015 honor was "insulting to Moira Smith's memory and the memory of other heroic women who have earned this award."
The letter, which misguidedly referred to Caitlyn as a "man," was evidently written from an emotional place.
Smith wrote,
Dear Ms. Leive, On October 29th, 2001 I was honored to accept the Glamour magazine 'Woman of the Year Award' posthumously given to my wife, Police Officer Moira Smith. Moira was killed on September 11th, 2001 while rescuing thousands from the World Trade Center. EMT Yamel Merino was also posthumously honored that evening for her heroism. I was shocked and saddened to learn that Glamour has just named Bruce Jenner 'Woman of the Year.' I find it insulting to Moira Smith's memory, and the memory of other heroic women who have earned this award. Was there no woman in America, or the rest of the world, more deserving than this man? At a time when we have women in the armed forces fighting and dying for our country, heroic doctors fighting deadly diseases, women police officers and firefighters putting their lives on the line for total strangers, brave women overcoming life threatening diseases… The list of possibilities goes on… Is this the best you could do? I can only guess that this was a publicity stunt meant to resuscitate a dying medium. After discussing this slap in the face to the memory of our Hero with my family, I have decided to return Moira's award to Glamour magazine.
In response, a Glamour spokesperson reportedly told the New York Post,
We were proud to honor [Moira Smith]... in 2001, and we stand by our decision to honor Caitlyn Jenner… Glamour's Women of the Year Awards recognize women with a variety of backgrounds and experiences.
Since his wife's death at the early age of 38, James has raised their daughter, Patricia.
Citations: Husband of 9/11 hero cop returns his wife's Woman of the Year award after Glamour honors Caitlyn Jenner (Daily Mail), Husband of 9/11 hero sends award back over Caitlyn Jenner (New York Post)