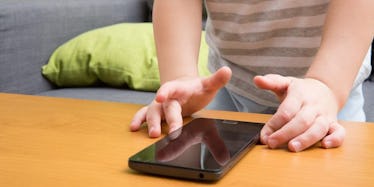 911 Call Reveals How 4-Year-Old Saved Mom's Life By Unlocking Phone With Siri
Shutterstock
A 4-year-old boy saved his mother's life after he asked Siri to help him phone the police.
Authorities have released the audio of a 911 call — 999 in the UK — in which a young boy named Roman is heard speaking to a dispatcher about his mother, who had collapsed in their home in Kenley, Croydon, on Tuesday, March 7.
Roman managed to make the call by using his mother's iPhone, which he amazingly knew to unlock with her thumb while she was unconscious.
The 4-year-old then asked Siri to put him through to emergency services, MailOnline reports.
When the dispatcher asked if Roman knew where his mother was, he said he thought she was dead because "she's closing her eyes and she's not breathing."
Though the boy initially provided the wrong address, officers still managed the find the house just 13 minutes after the call was placed.
When they arrived, police found Roman, his twin and his younger brother with their mother, who was lying unconscious on the floor.
Paramedics miraculously managed to save the mother's life. She was taken to the hospital shortly after regaining consciousness.
Police released the audio of the 911 call in an effort to educate parents about the importance of teaching children to know what to do in the case of an emergency.
Chief Superintendent Ade Adelekan, from the Met's Command and Control Unit, said,
Hearing this call brings home the importance of teaching your young child their home address and how to call police or emergency services in an emergency situation. If you do nothing else today, then I'd implore any parents of young children to sit down with them and make sure they know what to do in this kind of situation and that they know how to contact police or other emergency services in an emergency.
Adelekan went on to say this case poignantly demonstrates how a child's ability to handle an emergency really could mean the difference between life and death.
He concluded,
It's an amazing story and thanks to his quick thinking and by asking Siri for help, this little boy saved his mpm's life and it means she is still here and can be extremely proud of him and his brothers.
Citations: 'Mummy's closing her eyes': Amazing 999 call audio reveals how four-year-old boy saved his unconsious mother's life by asking 'Siri' to phone police (MailOnline)