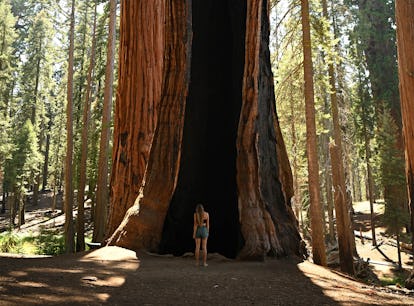 7 Impactful Ways To Give Back This Earth Day
It's time to invest in mother earth.
Earth Day can feel like one of those holidays that you learned about in elementary school but sort of disappeared as an adult. In 2022, when it seems like there are more crises than we have the ability to focus on, it might be time for an Earth Day rebrand. The day was originally started in 1970 when peace activist John McConnell proposed a day to honor the planet and promote peace.
Each year has a theme, and this year the theme is Invest In Our Planet. Elite Daily has teamed up with Meta to do just that — invest in bettering our environment by way of community action, using Instagram Reels to fundraise, and making small lifestyle changes that take only a few minutes. Meta's featured climate activists talked to Elite Daily about how they give back, from organizing a "Beach Clean Up" campaign to elevating conversations around issues of environmental and social justice.
1. Go Local
For Nate Evans, co-founder of sustainable travel company Beautiful Destinations, eco-friendly travel starts with going local. When you're traveling, opt for locally owned restaurants, hotels and shops. "By choosing local, you can economically support the destination you're in and reduce your part in any transportation emissions that come from importing goods from other countries," he tells us.
Another travel tip Evans suggests is to travel by car or train in lieu of flying whenever possible. The New York Times reported last year that commercial air travel accounts for about 3 to 4 percent of total U.S. greenhouse gas emissions. If you're planning a short trip, consider taking the extra time to travel by train — it's also a fun way to see the country's underexplored backroads.
2. Think Small
For activist Zyahna Bryant, "small, intentional" actions can add up to a lot more. If you have extra time and want to build community locally, volunteer at your local community garden or see if your area has recycling-and-reuse nonprofits you can spend a few hours a month at. If you're in the middle of a particularly hectic time in your life, maybe you don't have much extra time to volunteer — but you can think about which brands you choose.
Whether it's shopping sustainable fashion brands or buying a reusable coffee cup instead of using endless paper cups at coffee shops, take a few minutes to think about your daily routine and what eco-friendly changes you can make. "For me, that looks like buying energy saver products, supporting clean brands that use recycled materials, and also supporting companies that are committed to lessening their footprints," Bryant says.
3. Make It Personal
Something as broad and multi-faceted as environmentalism can feel a little too abstract to know how to tackle. This Earth Day – or any day! — take a few minutes to think about what giving back means to you and why it feels so important. It sounds counterintuitive, but it's okay to be a little selfish here. Maybe you're thinking of the beach you grew up going to or wanting to create a better world for your kids. Let your personal interests lead you to a cause or organization that benefits groups a lot bigger than you.
For Caelynn Miller-Keyes, reality TV contestant and environmental influencer, that meant cutting out meat and visiting America's national parks. "Once I realized the impact meat had on the environment, I started to do more and more research on other ways I could be more proactive," she tells Elite Daily. "Once I started traveling to different national parks, rock climbing, and hiking, I became even more passionate about preserving the earth."
4. Use Your Social Media To Spread Awareness
Actress Mona Swain emphasizes how technology makes knowledge accessible to everyone. These days, we have multiple platforms at our fingertips that can be used to spread that awareness. "Climate change and striving to be eco-friendly are two causes that are on the forefront of my social media presence," Swain says.
This Earth Day, Meta is aiming to empower and mobilize action through their new fundraising feature on Instagram Reels. The new feature allows users to choose a nonprofit — there's more than 1.5 million to choose from — and add a fundraiser directly into their Instagram Reels. Meta covers donation processing fees, which means that all of the money raised will go to the organization of your choice.
5. Use Your Social Media To Elevate Marginalized Voices
Bryant uses her platform to talk to her 26,000+ followers about how environmental justice impacts social and racial justice. In addition to partnering with brands that align with her values, she uses her platform to write about and "elevate conversations about the impact of pipelines and built structures in Virginia that have negatively impacted vulnerable communities."
She adds that in-app fundraising tools are a great way to make giving back more convenient. Reels and infographics can also be powerful attention-getters that inform people searching for manageable yet impactful ways to participate. This Earth Day, think about your social media presence and how it can be used to further a cause you feel strongly about. You can use Meta's "Donate" feature to raise money for your local mutual aid group or highlight voices of BIPOC activists at the forefront of environmental justice issues like Bryant.
6. Use Your Social Media To Community Build
Beautiful Destinations used their platform to bring together people both physically and digitally. Their "Beach Clean Up" campaign united over 400 groups of people from around the world to help alleviate the damage plastic pollution can cause. They also used their platform to bring awareness to the threat of mining in Australia's Bristol Bay. "We've used tech tools and social media to help educate people about the importance of our natural world and motivating them towards positive action," Evans says.
Social media can also be a useful brainstorming tool. "I try my best to share what I'm doing and ask others what they're doing as well so we can all bounce ideas off one another," Miller-Keyes explains.
7. Think About What You Can Substitute
Nearly every part of our daily lives can be made more sustainable — and often in just a few minutes' time. Think about the substitutions you can make day-to-day, whether that's carrying around reusable utensils or buying biodegradable paper and sanitary products.
Look around your home to see what can be swapped out. A few quick ideas:
Aim to go meat-free at least one day a week to cut down on carbon emissions from the meat industry.
Swap out cleaning supplies with harmful chemicals for natural alternatives — or make your own.
Substitute plastic straws for metal straws to cut down on plastic pollution. Keep a few in your car to use on-the-go!
And don't be shy about broadcasting those changes on social media. "I do think it's important to share the ways you're helping because you never know who will see it, and who you'll inspire to make a change as well," Miller-Keyes says.