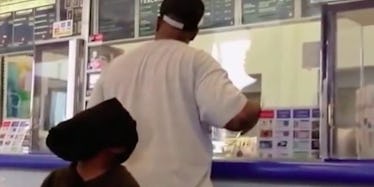 6-Year-Old Boy Literally Can't Even When His Dad Goes On Sexist Rant (Video)
A young boy was visibly mortified as his father berated two post office employees in front of several customers.
It isn't clear what the female worker did to upset the father, but footage reportedly recorded in Miracle Mile, Los Angeles begins with him accusing her of disrespecting him.
He then tells her,
I tried to deal with you civilized but now I gotta put you in your place [because] you're a woman. I'm a man. I'm not going to let you talk to me any kind of way.
The father continues to demand respect while his 6-year-old son puts a hat over his face and buries his head in his father's back in embarrassment.
The female worker eventually walks away from the counter so a male colleague can try to calm the father down, but he refuses to be silenced.
The man points to the female worker and says,
She needs a reality check and some Lipton Ice Tea because that [is not] acceptable.
The father then suggests the misunderstanding is a result of the woman's lack of a college education and notes he has a college degree.
After receiving a package from the counter, the father leaves with a warning for the workers. He says,
Don't make a crusade you guys don't want to start.
According to the YouTube user who uploaded the video on Monday, the police arrived, but the father and son already left.
Citations: Mortified six year old boy hangs his head in shame as father launches sexist rant at Post Office staff (Daily Mail)