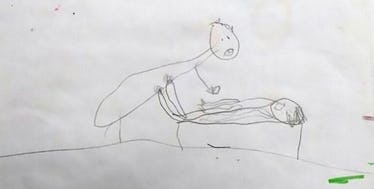 5-Year-Old's Disturbing Drawings Alert Parents To Priest's Alleged Sexual Abuse
Michelly Oda/G1
Parents allegedly discovered disturbing sketches drawn by their 5-year-old purporting to show her being sexually abused by a priest.
The mom and dad found the drawings in the child's belongings at their home in Montes Claros, a city in Brazil.
They show two people — one happy and one sad. In both, the small child is pictured lying down on a surface while an adult stands over her.
A 54-year-old man has been arrested in connection with the sexual abuse, reports local media outlet Globo.com.
The priest had taught the girl English since July 2015.
He is accused of taking her into a secluded room, locking the door and placing her in a crib where he undressed the child and touched her inappropriately.
The man is alleged to have engaged in oral sex with the child.
She complained to her parents she did not want to return to the priest for English lessons.
Her parents were alerted to the sexual abuse after they noticed a change in character.
She would not be comfortable in the company of men, including her own father.
They took the child in for counseling when it became apparent something wasn't right.
A psychologist suggested her change in mood may be a result of abuse. The advice was to delve into her personal belongings and dig for clues as to what could be causing her upset. That's when they came across the drawings.
Police say the man, who is believed to have been living with his sister, has confessed to the crime and since lost his right to be a pastor, according to Globo.com.
In the US, 1 in 4 girls and 1 in 8 boys are sexually abused before the age of 18, reports Psychology Today.
On top of this, 1 in 20 children are physically abused each year.
Citations: Globo, MailOnline