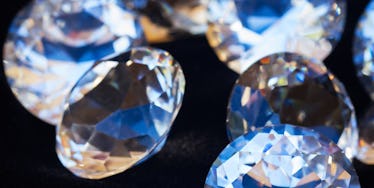 A 404-Carat Diamond Worth $14 Million Was Just Uncovered And It Looks Insane
Getty Images
An Australian company found a massive diamond in Africa reportedly worth around $14 million.
According to ABC Australia, the 7-centimeter-long, 404-carat diamond was unearthed in Angola, southern Africa by Lucapa Diamond Company.
The diamond is the largest ever found in Angola and estimated to be the 27th biggest diamond in history.
Discussing the diamond's value in Australian dollars, Lupaca Chairman Miles Kennedy reportedly said,
We're not used to valuing 400-carat diamonds, but if we look at other diamonds slightly less weight than this, you're looking in the order of $20 million.
In terms of quality, the diamond earned the rare categorization of Type IIa, NBC News reports.
Such diamonds are considered flawless and make up just 1 percent of all diamonds in existence.
This same mine in Angola's Lunda Norte province already produced 60 diamonds greater than 10.8 carats.
Kennedy reportedly said,
When we first looked at the property, 3,000 square kilometers [about 1,864 miles] of untouched ground, 700 kilometers [about 435 miles] inland from the coast, you are talking about a very, very remote area. The results today are a wonderful vindication of eight years of pretty hard work.
Although based in Perth, Lupaca has been mining in Angola since August and has a 40 percent stake in this mine, according to New York Daily News.
Endiama, a diamond company run by the Angolan government, owns 32 percent of the mine while the other 28 percent is owned by private Angolan company Rosas e Pétalas.
The value of the diamonds found in Angola currently ranks fourth in the world behind Russia, Botswana and Canada.
Botswana, also located in southern Africa, produced the second largest diamond in history late last year.
That diamond measured 1,111 carats and was found by Canada's Lucara Diamonds.
Citations: Giant 20 million diamond found in Angola by WA company Lucapa (ABC Australia), Massive 14 million 404 carat diamond discovered in Angola by Australian mining company (New York Daily News), 4042Carat Diamond Thats Virtually Flawless Is Found in Angola (NBC News)