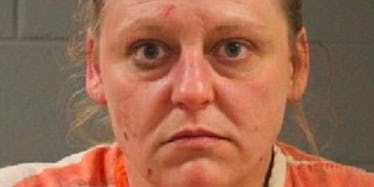 12-Year-Old Locked In Mom's 'Torture' Bathroom For Year Found Weighing 30 Lbs
Police
Brandy Kay Jaynes, mother-of-three, is facing child abuse charges after being accused of locking her 12-year-old son in a dark, dirty bathroom for one year.
DailyMail.com reports the 36-year-old woman was arrested on January 9 after her son was found dangerously malnourished and locked in the bathroom of their home in Toquerville, Utah.
Apparently, the young boy's father found him wrapped in a blanket inside the bathroom and immediately rushed him to the Dixie Regional Medical Center.
When police arrived at the scene, the health conditions of the bathroom where the child was kept were horrific. Apparently, the ground was covered in human feces and the toilet was so full that the water was no longer visible.
Based off the three-square-feet duct tape mounted onto the light switch, authorities believe the room was kept dark.
To make matters even worse, police found locks on the outside of the door so it could be externally locked, as well as video camera set up for monitoring.
The young boy could not communicate with anyone, but there was a baby monitor inside the room that allowed outsiders to speak with him.
However, Lt. David Crouse of Washington County Sheriff's Office admitted the remaining siblings haven't spoken to their brother in six months.
In fact, they admitted to police their brother had been locked in the bathroom for at least one year.
While describing the "torture room," Crouse said,
There was fecal matter and urine on the floor, there was open cans of food, like can of beans with a spoon in it; there was also a video camera that was capable of wifi monitoring.
When the young boy was rescued, he weighed 30 pounds — the standard weight of a 2-year-old. He could not walk on his own.
Apparently, his case of malnourishment was the worst his doctor has ever seen.
Brandy Kay Jaynes was arrested and charged of second-degree felony aggravated abuse. She is being held on $20,000 cash only bail.
She will appear in court on January 17.
Citations: Utah Mom Allegedly Locked 12-Year-Old Son in Bathroom For Over a Year and Starved Him: 'Like a Horror Movie' (People), Dangerously malnourished 12-year-old boy is rescued from a filthy bathroom, covered in feces where 'his mother had forced him to live for a YEAR' (DailyMail.com), Mother arrested for allegedly locking malnourished son in bathroom (The Spectrum)