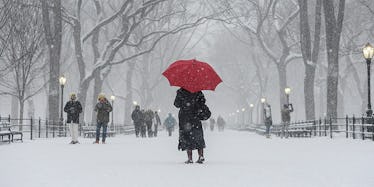 12 Gorgeous Photos That Will Make You Appreciate The First Snowstorm Of 2017
REUTERS
Let's be real: At its worst, snow can really, really, suck.
Thankfully, though, we can appreciate two things about the first snowstorm of 2017.
First, it's nowhere near the worst we've seen and, second, it fell on a non-business day, which means we can appreciate the brighter side of these flurries.
We all know what it is right? Snow can make for some sick pictures.
Just look at the White House, chilling under a beautiful coat of frost the morning after hosting the coolest party ever (see what I did there?).
And there are other great photos, taken by both professionals and amateurs, that highlight some of the best snaps of the day.
Some of them come from northern cities, like New York, Boston and DC, places that are no strangers to huge blizzards. One Massachusetts resident pretty much perfectly summed up how used to this weather Northeastern residents are.
Diane Carr of Edgartown told the Boston Globe,
It's actually beautiful light snow. But there's a lot of it. We probably have about eight inches so far, on top of four we have yesterday... It's very pretty, actually.
Other photos are from Southern cities like Raleigh and Atlanta, which, let's just say, is a little bit less accustomed to this type of weather.
All of them, though, are beautiful, and show the best of winter in their own right. So here are a few of the most incredible photos that will make sure you appreciate the first major snowfall of 2017.
Arlington Cemetery -- Arlington, VA
Beacon Hill, Boston
Central Park -- Manhattan, NY
Greensboro, NC
Greenwich Village, NYC
Lincoln Memorial -- Washington DC
Longwood University -- Farmville, VA
USS George Washington -- Norfolk, VA
Temple University -- Philadelphia, PA
Trump Tower -- NYC
University of Alabama -- Tuscaloosa, AL
Happy snow day!