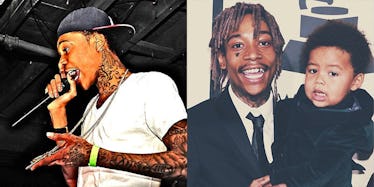 How Wiz Khalifa Went From Local Rapper To International Icon
Instagram
Wiz Khalifa is only 27 years old, but the man is wise beyond his years.
After all, he got the first part of his name from his grandfather for all the wisdom he showed when he was young.
The Khalifa part means "successor" in Muslim, and with a name like that, you're just meant to go far in life.
Starting out as a local rapper in Pittsburgh, Wiz is a star all across the world these days, touring overseas, starring in movies and smoking out everywhere he goes.
It's safe enough to call him an icon, especially for a generation of stoners who grew up burning it down to his music.
He's the type of artist to have both mainstream and underground appeal, and whether he's performing for an NFL stadium or at Monday Night Raw, he's drawing a crowd (and probably burning it down before and after).
The man has already reached legendary status before the age of 30, but that's just a testament to how hard he works. This is his journey so far:
Wiz Khalifa is only 27 and is already worth $36 million.
But back when he was Cameron Thomaz from Pittsburgh...
No one would have thought he'd be touring with Fall Out Boy...
Or smoking on a couch with Leonardo one day.
Wiz first started rapping when he was 16, and signed with Rostrum Records.
His first hit came in 2008 when he dropped "Say Yeah," which is sampled with the Euro dance song "Better Off Alone" by Alice Deejay.
He nearly signed with Rick Ross' Maybach Music Group, but declined...
And even turned down an invitation to tour with Drake.
Instead, he started his own Taylor Gang record label under Rostrum and Atlantic, which was named after his high school (Taylor Allerdice) and his favorite shoes (Chuck Taylors).
Fellow members now include Chevy Woods, DJ Bonics, Juicy J and Ty Dolla $ign.
By 2010, he had released six mixtapes and two studio albums.
But it wasn't until he dropped Kush & OJ when the whole country started to notice.
This classic mixtape gained him millions of new followers.
Later that year, he dropped the single "Black & Yellow," which went triple platinum and became the theme song for the Steelers in 2011.
Funny enough, the song was actually about his black-and-yellow-striped car.
In 2012, he released a stoner movie and album with Snoop Dogg called "Mac And Devin Go To High School."
Wiz draws a lot of comparisons to Snoop, and it's no wonder...
He is a super pothead and once admitted he spends $10,ooo on marijuana every month.
Wiz represents Pittsburgh everywhere he goes, which is why the city gave him is own official day...
And he even made it on to CNN to talk about smoking weed.
Since Kush & OJ, Wiz released four mixtapes, two EPs and three more albums.
In perhaps his smartest decision as an artist, Wiz began making music for films including "Ninja Turtles" and "Fast & Furious."
His song "See You Again" for "Furious 7" has nearly 600 million views on YouTube.
It goes without saying he's been making bank off of that.
Today, he spends his time making music, smoking more weed and taking care of his son Sebastian.
Wiz told Forbes he plans on earning $100 million in one year, which isn't a crazy idea down the line.
That means more fire music...
More getting super stoned...
And turning up where ever the Taylors go.