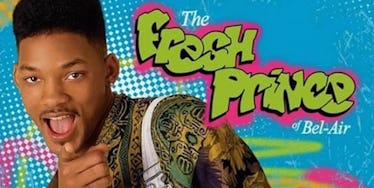 These 8 Will Smith Songs Prove He Deserves The MTV Generation Award
NBC
On Saturday night, Will Smith received the MTV Generation Award.
At the MTV Movie Awards taping, Will joked,
When I first heard MTV wanted to give me the award I thought that was code for the old ass dude award - hey congrats the best work is behind you.
While honoring the television/movie/music star, friend Halle Berry said,
Will is a champion for diversity in Hollywood blazing the path for actors by showing someone of any color, can play any role, can open any movie and can win every award; and be the biggest freaking movie star in the whole world. I love you Will Smith.
Let's be real: Will Smith will be around forever. And sure, he has a ton of great work to come (most notably the upcoming "Suicide Squad" film), but Will also has a legacy of work behind him that very few artists could rival.
Sometimes his songs may feel overly cheesy and camping, but you're straight up lying to yourself if you think you can resist a good Will Smith party track.
Check out eight of Will's best tunes that have been getting the party started for three decades straight.
"Summertime"
This may be Will Smith's ultimate party banger. It's also the way millions of people around the world realize the season has just switched over from spring to summer. The song, released in 1991, won a Grammy for Best Rap Performance by a Duo.
"Parents Just Don't Understand"
Released in 1988, "Parents Just Don't Understand" would become one of the greatest rap songs of all time. VH1 even honored the track as one of the top 100 greatest hip hop songs.
"Miami"
"Miami," released in 1997, re-introduced the world to party Will. The video also introduced us to Eva Mendes (watch closely and see if you can spot her.)
"Gettin' Jiggy With It"
To this day "Gettin' Jiggy With It," released in 1998, will get any party bumping. The song hit #1 and also earned Will yet another Grammy.
"Just The Two Of Us"
The adorably sticky-sweet cover heavily featured Will's first son, Trey, in the video. The song, released in 1997, was also on heavy rotation at middle school dances everywhere.
"Men In Black"
"Men In Black" is just one of many of Will's smash hits to coincide with his blockbuster movies. The song, featured in the film of the same name, won him (shocker) ANOTHER Grammy.
"Wild Wild West"
There are very few songs that can get an entire room moving like "Wild Wild West." The song, again from one of Will's greatest and most underrated movies, hit number 1, although it would not be universally praised. The song won a Golden Raspberry for worst original song. But suck it haters, this song is dope and totally stands the test of time.
"Fresh Prince Of Bel Air"
This is the song, and the show, that would transform Will from a gimmick to a bonafide superstar. Go out right now and ask five people to sing this song. I will bet you good money all five of them know every single lyric.
Will Smith is a living legend who may be too good for campy classics now, but damn if this list doesn't make me wish for more. Come on Will, keep making great music for decades to come.