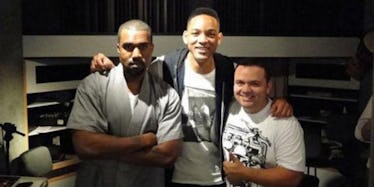 Will Smith Says He Has Collaborated On 7 Songs With Kanye West
Twitter
The Fresh Prince is making his comeback to the rap game in a big way.
In an interview with Ryan Seacrest, Will Smith admitted that aside from making box office bangers for the summer, he's been working in the studio with Kanye West.
And in a red carpet interview with Hollyscoop, Will went into detail and said they've already collaborated on several tracks. He told the reporter,
I've recorded a lot. I don't have anything I like yet but... I've probably recorded seven or eight and, you know, not for certain... It's just explorative.
Seven or eight tracks and none that you like? Come on, Will, we know you have it in you!
This is one of the most versatile entertainers of all time; he created classics like "Miami," "Just The Two Of Us" and everyone's favorite family road trip song, "Gettin' Jiggy Wit It."
Of course, if he's feeling a little too outdated for the scene, he can always have his son, Jaden, hold the torch. The young man already has bars for days!