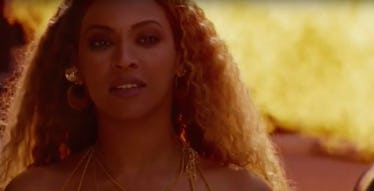 6 Warsan Shire Lines From 'Lemonade' That Remind Us Of The Power Of Poetry
In Beyoncé (2013), Queen Bey's fifth studio album, she showed us why we should all be paying attention to Nigerian writer Chimamanda Ngozi Adichie, whose TED Talk, "We Should All Be Feminists," was sampled on "Flawless."
Since then, Beyoncé has collaborated with dozens of artists, activists and authors, and this is no more apparent than in her visual album Lemonade, which dropped on HBO this past Saturday. Alongside cameos of Serena Williams, Amandla Stenberg, Zendaya and the mothers of Trayvon Martin, Eric Garner and Michael Brown, we are introduced to the words of the Somali-British poet, Warsan Shire.
Working as the connective tissue between her songs, Beyoncé reads adapted lines from Shire's work, including poems "Nail Technician As Palm Reader," "For Women Who Are Difficult To Love" and "The unbearable weight of staying (the end of the relationship)."
Shire is also credited in the film under "Film Adaptation and Poetry," which is one of the first title cards to appear at the end of Lemonade.
Obviously, Beyoncé wants us to know poetry is far from dead, and that Shire should definitely be on our radar. Here are six excerpts from Shire's work in Lemonade that remind us of the power of poetry:
Grateful to @Beyonce for a great many things, but none so much this morning as reminding us why poetry matters. #WarsanShire #LEMONADE — Allison Glock (@AllisonGlock) April 24, 2016  
1. From "Emptiness"
She sleeps all day. Dreams of you in both worlds. Tills the blood, in and out of uterus. Wakes up smelling of zinc, grief sedated by orgasm, orgasm heightened by grief [...] Sometimes when he'd have her nipple in his mouth, she'd whisper, 'Oh, my God.' That, too, is a form of worship. Her hips grind, pestle and mortar, cinnamon and cloves. Whenever he pulls out ... loss.
2. From "Denial"
I tried to change. Closed my mouth more, tried to be softer, prettier, less awake. Fasted for 60 days, wore white, abstained from mirrors, abstained from sex, slowly did not speak another word. In that time, my hair, I grew past my ankles. I slept on a mat on the floor. I swallowed a sword. I levitated. Went to the basement, confessed my sins, and was baptized in a river. I got on my knees and said 'amen' and said 'I mean.'
3. From "Anger"
I don't know when love became elusive. What I know is, no one I know has it. My father's arms around my mother's neck, fruit too ripe to eat. I think of lovers as trees ... growing to and from one another. Searching for the same light. Why can't you see me? Why can't you see me? Why can't you see me? Everyone else can.
4. From "Forgiveness"
Baptize me ... now that reconciliation is possible. If we're gonna heal, let it be glorious. 1,000 girls raise their arms. Do you remember being born? Are you thankful for the hips that cracked?
5. From "Intuition"
I tried to make a home out of you, but doors lead to trap doors, a stairway leads to nothing. Unknown women wander the hallways at night. Where do you go when you go quiet? [...] The past and the future merge to meet us here. What luck. What a f*cking curse.
6. From "Redemption"
You're the magician. Pull me back together again, the way you cut me in half. Make the woman in doubt disappear. Pull the sorrow from between my legs like silk. Knot after knot after knot. The audience applauds ... but we can't hear them.
We often turn to music as a way to sort through our emotions and our grief, and to make sense of the things we encounter throughout our lives. But, Lemonade proves poetry can help us cope in strikingly similar — if not more profound — ways.
Shire's words are just as important as the music. When the two are paired together, they appear to be unstoppable.