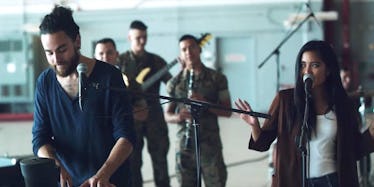 Us The Duo Dropped An EP Based On Their Fans' Life Stories And It's Beautiful
YouTube
If you don't want to sob over the beauty of humanity in public, you might want to wait until you're alone to watch Us The Duo's new music videos.
The husband-and-wife folk duo, Michael and Carissa Alvarado, is known for six-second acoustic covers of pop songs on Vine.
Their video "Top Hits of 2014 in 2.5 Minutes" has over 18 millions views on YouTube.
In 2014, Us The Duo was signed to Republic Records, making Michael and Carissa the first Vine musicians to sign a major label.
This past July, they released their third album, Just Love, and now, six months later, they are back again. The pair teamed up with AT&T Hello Lab to release a five-song EP and music video series, Public Record, on December 5.
For this EP, they did things a little differently.
Rather than performing covers or original songs based on their own experiences, as they had done previously, Michael and Carissa decided to tell their fans' stories.
Michael detailed the process of creating these five new songs, which he and Carissa wrote based on the lives of five fans they selected.
He said,
We ask our fans to tell us their stories, what are they going through, how are they feeling. Carissa and I, we generally write songs about us, and we can only see so much. We're kind of in a bubble.
The songwriter said they got thousands of submissions, most of them coming in via Twitter hashtag.
Michael said,
We got amazing stories about love and heartbreak and death and joy... all these crazy things. It was the most inspiring process I've ever been through.
But after the stories rolled in, then came the hard part: choosing ones to write songs about.
Both singers went through the submissions, separately and together, and slowly they narrowed the thousands of stories down to five.
Carissa said,
We kind of just let the stories pick us, as cheesy as that sounds. We had no idea what would be submitted, and we didn't know what to look for. There were just certain ones that impacted us. They're all so different, which is really cool. I love the variety that's going to be on Public Record. 
The stories they chose range from light-hearted anecdotes of playing clarinet in a band to dark tales of abuse and alcoholism.
All of the five chosen fans got a music video for their song, and a separate video explaining their story.
There's Camden, the openly gay Marine who plays the clarinet in the Marine Corps band.
Watch the music for "I'm Me" here, and learn more about Camden here.
There's Mariana, the young Portuguese woman who lost her father too soon.
Watch the music for "Saudade" here, and learn more about Mariana here.
Here are Jasmine and her mother, who escaped an abusive household together.
Watch the music for "Fighting For You" here, and learn more about Jasmine and her mother here.
There's Fiorella, who found her voice despite grappling with a stutter throughout her life.
Watch the music for "Follow Me" here, and learn more about Fiorella here.
And there's Lucybelle, who tells the story of her grandparents meeting as teenagers and dying 35 hours apart — the real-life "Notebook."
Watch the music for "One Last Dance" here, and learn more about Lucybelle and her grandparents here.
Each of the music videos hits on a poignant and real human experience.
And seeing these people hear a song that so perfectly represents their journey — well, like I said, make sure you watch these videos somewhere you feel comfortable crying.
Public Record released worldwide on December 5 and is available for purchase on iTunes. All five music videos are streaming on YouTube.