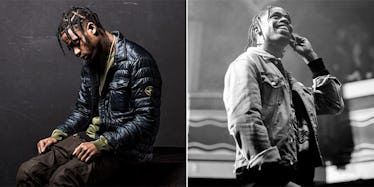 How Travis Scott Went From Sleeping On Couches To Making Hit Records
Travis Scott is one of the hottest artists in hip-hop today.
He's not like most other rappers, though. The man is a producer first, using dark melodies and bending his voice in unique ways to create art that caught the attention of greats like Kanye West.
Fresh off releasing his debut album, Rodeo, he's produced for some of the biggest acts in the game including Yeezy and Rihanna, who, if you ain't know, is also allegedly (but definitely) letting him smash.
However, it wasn't always like that for the 23-year-old kid out of Houston, Texas. He still might be young, but he's paid his dues and sacrificed a lot to get where he is today.
Talent has a lot to with his journey, but like all other success stories, it was the work he put in when nobody was watching. That included dropping out of college and sleeping on couches, as you'll see below.
Travis Scott's Rodeo is one of the hottest albums out right now.
But back when he was Jacques Webster from Houston...
No one thought he'd be producing for Kanye.
When he was 16, Travis Scott began making beats and discovered his love for producing music.
That passion would eventually lead him to Los Angeles in 2011 where he lived on friends' couches as he worked at the studio during the day. He did that for about two years.
Without his mother knowing, he dropped out of the University of Texas and secretly used money from his parents to help pay for plane tickets between New York and LA.
In an interview on ESPN, Scott said when his mother found out, she cut him off and he didn't speak to her for three months.
Luckily, that decision worked out because he kept grinding. T.I. heard one of his beats and used it for a track called "Animal."
Travis then linked up with Kanye West's engineer, Anthony Kilhoffer, and learned about being a true artist.
He eventually got to meet Kanye, who came to one of his listening parties and offered Scott a Doritos taco on a Hermès plate. West was also very impressed with his work.
Scott would go on to help produce songs, including "The Morning" and "Don't Like," on Kanye's album Cruel Summer.
He put out two mixtapes, Owl Pharaoh and Days Before Rodeo, but also started directing videos, and he proved to have a skill for that, too.
Here's an awesome video of him and Metro Boomin putting in work for the track "Skyfall" off Days Before Rodeo.
After those projects, he became one of the biggest artists in hip-hop and has been touring all over the world since.
Scott is one of the most influential artists in the game not only because of his music but also for the way he branded himself as an artist.
That caught the attention of Rihanna. He helped produce her song "Bitch Better Have My Money," and it's rumored they've been dating ever since.
Not bad for a kid who didn't want to go to school and decided follow his dreams instead. Straight up!